The latest guidance for deep brain stimulation in Parkinson's
Knowledge
---
---
The newly updated Parkinson's non-oral therapy pathway sets out the latest guidance embedded in a clear treatment pathway for deep brain stimulation (DBS).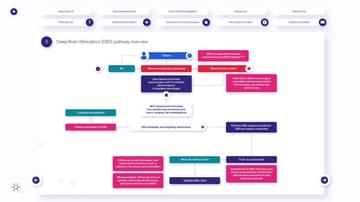 Figure 1: Deep brain stimulation overview pathway
Inequity of provision and joined up services
As the pathway stipulates:

'DBS is part of specialised services that are commissioned using a nationally consistent approach, meaning that patients will have equal access to high quality services, regardless of where they live.'
Parkinson's non-oral pathway: DBS pathway section
We know that there has historically been an inequity of access to non-oral therapies for Parkinson's such as DBS Parkinson's Audit (2019), and some of the barriers to improved access are clinical. However, governance and policy play a role, as do commissioning and population planning.
The recent Get it Right First Time (GIRFT) report for Neurology (2021) highlighted that whilst specialised services, commissioned using a nationally consistent approach, ought to mean that patients will have equal access to high quality services, regardless of where they live, these specialised services are currently delivered at a 'very limited number of sites' and that the GIRFT team 'identified notable variation in terms of capacity and access' (p119, GIRFT Neurology, 2021).
The report noted that, whilst the report does not measure outcomes, it does indicate that these highly specialised interventions are provided at very different rates at different neuroscience centres. The data presented showed a reduction in the number of 'spells' for elective hospital admissions for DBS in Parkinson's over the past three years (fig 2).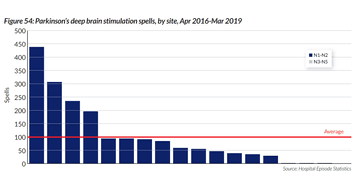 Figure 2: Graph except from GIRFT Neurology 2021 report p122
Additionally, survey data collected from March to July 2020 from consultants and nurses involved in Parkinson's care found that almost half of respondents had been unable to start or to continue non-oral therapies, such as DBS, indicating that the pandemic has also had an impact on access.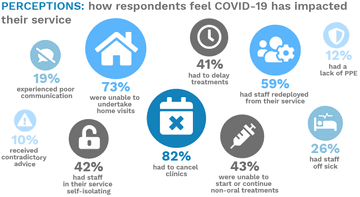 Figure 3: Infograph highlighting perceived changes in Parkinson's services during COVID pandemic (data collected March-July 2020). Full survey results available online.
The GIRFT report recommends cross-regional flow, easy access and clear referral systems, and good links between specialised and localised services to ensure appropriate referrals and ongoing management post-procedure, were all highlighted as requirements for services to ensure people with Parkinson's who require this treatment get appropriate access and quality, joined-up services.
The Parkinson's non-oral pathway itself includes helpful sections on information, governance, potential policy issues and other elements which impact how well the treatment pathways are likely to be implemented. Additional information across the pathway include levers for change and key performance indicators (KPIs), all of which make the pathway an informative and actionable tool.
Deep brain stimulation is a treatment that can have a profound impact on a person with Parkinson's life, and the lives of their loved ones. However, the process from initial conversations through the assessment process, into the surgery and beyond is a significant journey for someone to make, and can be incredibly emotional.
It can help to introduce non-oral therapies like DBS at a more comfortable point in a person with Parkinson's journey. Discussing them at the very start of the disease process, particularly in a group setting such as an educational session can be positive. This opens discussions of treatments like DBS in a safe environment, before they are needed, and allows questions to be asked without too much investment in the answers.
Knowing who is eligible
Eligibility criteria and procedural guidance for DBS are fully available and can be found easily via links in the pathway and online via National Institute and Health and Care Excellence (NICE) or journals.
However, for ease of initial assessment, the non-oral pathway sets out two helpful figures based on recent research and evidence - the 5,2,1 paradigm (fig 4) and the Venn diagram of non-motor symptoms by Leta et al (2021) (fig 5).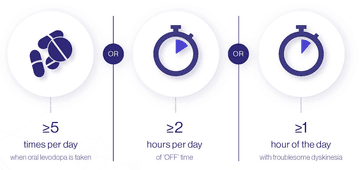 Figure 4: The 5 2 1 paradigm cited in the pathway (p22 of the Parkinson's non-oral pathway).
Figure 5: Venn diagram of non-motor symptoms and device aided therapy (p22 of the Parkinson's non-oral pathway). *LCIG is not licensed to treat non-motor symptoms under product characteristics (2021). The diagram is a representation of the authors suggestions for product selection.

The Parkinson's disease non-oral treatment pathway has been supported through a financial grant from AbbVie Ltd and financially supported by Britannia Pharmaceuticals Ltd and Merz Therapeutics UK. Whilst the sponsors have reviewed the content of the pathway for medical and factual accuracy, they have had no further input in the educational content of this activity.
'The things you can't get from the books'
Parkinson's Academy, our original and longest running Academy, houses 20 years of inspirational projects, resources, and evidence for improving outcomes for people with Parkinson's. Led by co-founder and educational director Dr Peter Fletcher, the Academy has a truly collegiate feel and prides itself on delivering 'the things you can't get from books' - a practical learning model which inspires all Neurology Academy courses.