Event
Virtual consultations for Parkinson's patients: Delivering an optimal care experience
---
16 Nov 2020

•

15:00 - 16:30
---
The first session of this webinar is available to watch here:
Please note that all session and slide content are the views of the Speakers, not the Parkinson's Academy. The content of the recording is the speaker's personal opinion at the time of recording. Due to the ever changing situation, advice given at the time of recording is subject to change.
The use of telemedicine varies globally, nationally, and even locally. Different centres use different platforms in different ways, and both success and patient satisfaction vary.
It means that teams should continue to audit their services, share their findings, and learn from each other, said Miriam Parry.
Virtual consultation: Through the eyes of a neurologist
Dr Johnathan Evans said COVID-19 provided an "imperative to change" neurology care, which he argued was not optimised beforehand.
GPs were able to book consultant slots directly, regardless of the nature of the problem, and all patients were seen face-to-face. The result was a 14-week waiting list, consultants seeing patients with "trivial problems", and patients spending unnecessary time in clinic.
COVID-19, then, was an opportunity to do things better, he said.
Reset
Now, referrals are made via the Referral Assessment Service (RAS), and are "hard vetted" by consultants, job planned, and turned around within 24 hours. Around half of referrals are offered a virtual outpatient appointment. The remainder are either offered a face-to-face meeting or deemed inappropriate and referred back to the RAS.
This has reduced demands on the service considerably, said Johnathan, adding wait time was now three weeks for a virtual appointment, and between seven and eight weeks for a face-to-face.
"But there are some challenges with a system like this. There are some patients, such as nursing home residents, who are very difficult to manage in the COVID era. These are the patients I lose the most sleep over because they are the most vulnerable.
"They're the patients who most suffer when they're care is disrupted, but also the ones who would be most vulnerable to picking something up, bringing something into clinic, or taking something back to other residents," said Jonathan.
Knowing which patients who need to be seen face-to-face – those in whom an intervention could avoid a hospital admission, or who need multidisciplinary input, for example – is difficult thanks to the complex interplay of risk and benefits.
Here to stay
Johnathan said: "It would be a mistake to see this as a stopgap measure. I think they are here to stay and the sooner we can find a way of integrating virtual consultations into our standard week, the better."
Getting the technology right is a big part of that. Johnathon said he uses:
FaceTime – 100% "pick-up" rate, but limited by non-iPhone use and small screen
WhatsApp – end-to-end encryption and easy to use, but not everyone has the app
accuRx – NHS-licenced video consultation software, but can be slow
It's worth noting however, that different trusts will have different rules on which platforms clinicians can use for remote appointments.
Teams also need to continually improve their processes to integrate the benefits of digital care into their practice, he said.
Top tips
Jonathan's top tips included:
plan – make sure patients are prepared for a virtual consultation. Letters that set out what to expect, what technology they will need, and how to access it, can help
ask for help – speak to patients about family members the healthcare team could liaise with to make sure they can access digital consultations
digital advocates – people in the team who can extol the benefits of virtual consultations in, for example, videos that can be shared with patients
to get the most out of virtual consultations:

assess tremor by asking the patient to hold their hand to the camera
if there is someone else at home with the patient, ask them to act as cameraman to improve the clinician's field of vision
watch arm swinging while walking to assess tone
always ask the patient to move or adjust if the lighting or setting is not right
do not defer assessments for device-aided therapy – remote consultations lend themselves to these conversations
Dr Jonathan Evans: Video to support video consultation in the Movement Disorders Clinic
This is not AbbVie UK Ltd's content and they do not have any responsibility over its content.


Virtual consultation: Through the eyes of patients
Katie Goates shared some of the insights collected by Parkinson's UK in a survey during the first lockdown.
Of the more than 2,000 people who responded, a third of people said their appointment with a Parkinson's doctor or nurse had been cancelled. Of these, around half said they had not been offered an alternative. These figures were worse among those waiting for an appointment with an allied health professional.
"There are real mixed feelings about virtual consultations," Katie said, "some people are ready and willing to jump on board and others are a little hesitant about engaging with them."
While everyone needs an opportunity to be seen and heard, virtual clinics are no right for everyone.
Current experiences
People's understanding of technology is advancing rapidly as it becomes a bigger part of daily life, and carer support can be crucial in enabling tech use, said Katie. But engaging with the digital space is still difficult for some, and this can be compounded by symptoms.
Katie also highlighted how important it was for symptoms to be accommodated before and during calls.
"One person said the consultation was stopped after a short time, due to their low voice volume and voice tremors. If that person had had an opportunity to feed that into the team before the consultation started, perhaps that could have been worked around," said Katie.
Other challenges for patients include getting up to date information on the status of consultations, she went on. Many people "do not want to bother the NHS" so are waiting to be contacted, rather than proactively booking an appointment.
In terms of opportunities, people with Parkinson's are generally happy that they are able to better demonstrate how their symptoms affect their daily life in a video consultation.
Said Katie: "I've had conversations with nurses who have done some referrals to occupational therapy after realising there were a huge number of trip hazards in the background of someone's video call and that they really needed a bit of help."
The online model also allows family members to join in conversations and take a more active role in their loved one's care. Adult children who live oversees, for example, can be part of video calls in a way they could never be part of a face-to-face consultation.
Tips and tricks
Katie's top tips for virtual consultations included:
give as much information on using the technology as possible in advance
allow for as much two-way communication as possible in the run up to the appointment to find out if, and how, to accommodate symptoms etc
make sure carers are invited and feel part of the conversation to avoid the loss of vital information
double check what has been heard and understood even more than you usually would – it can be easy to miss small cues on video
after appointments, follow up with regards to next steps. Otherwise, the person might feel anxious or left in the dark
Parkinson's UK has developed patient information on getting the most out of a virtual appointment. This is freely available on the organisation's website.
Our sponsor
This webinar has received sponsorship from AbbVie Ltd. The first session in the webinar is designed and delivered by the Parkinson's Academy and sponsored by AbbVie Ltd; the sponsor has had no input into the educational content or organisation of the session. The second session is a satellite symposium that is designed and delivered by AbbVie Ltd.
---
Related events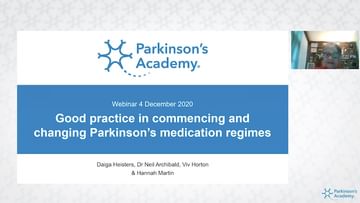 Good practice in commencing and changing Parkinson's medication regimes
Last places remaining
'The stuff you can't get from books'
Parkinson's Academy, our original and longest running Academy, houses 17 years of inspirational projects, resources, and evidence for improving outcomes for people with Parkinson's. Led by co-founder and educational director Dr Peter Fletcher, the Academy has a truly collegiate feel and prides itself on delivering 'the stuff you can't get from books' - a practical learning model which inspires all Neurology Academy courses.