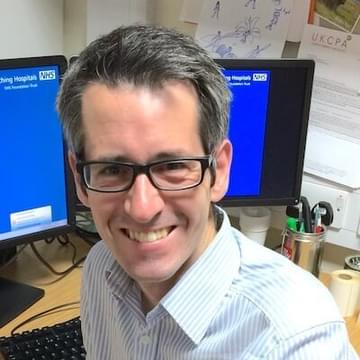 Dr Ben Dorward
Lead Pharmacist, Neurosciences Service
Sheffield Teaching Hospitals
Ben has been lead pharmacist for the neurosciences service at Sheffield Teaching Hospitals since 2002. Ben jointly chairs the neurosciences group of the United Kingdom Clinical Pharmacy Association (UKCPA). The group aims to bring together pharmacists working within neuroscience services to enhance the profile of clinical pharmacy, and provide education of neurological conditions amongst the pharmacy profession and beyond.
Through the UKCPA and other regional and national forums, Ben has provided educational sessions and publications around neurological conditions and their drug treatment. He has helped create and update educational packages on neurological conditions through the Centre for Postgraduate Pharmacy Education at the University of Manchester.
Ben has a Doctor of Pharmacy degree completed with a thesis exploring the experiences of pharmacists in developing and defining their role within neuroscience services. Ben's interviews with pharmacists identified the strength placed within the multidisciplinary team; he has consequently become a keen advocate of multidisciplinary working to strive for 'medicines optimisation' for neurological conditions
Faculties
Dr Ben Dorward is a contributor to Neurology Academy's following faculties...