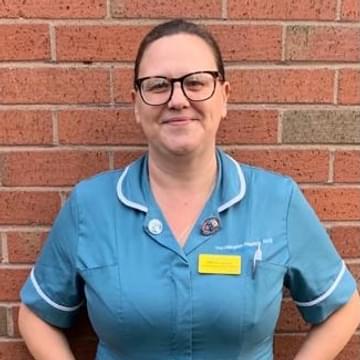 Nicola Faulkner
MS Specialist Nurse
The Hillingdon Hospitals NHS Foundation Trust
Nicola trained at Bucks New University and qualified in 2012 with a BSc (Hons) in adult nursing. Prior to that Nicola worked as a HCA in a stroke rehabilitation unit. Nicola originally specialised in Haematology after qualifying, however she missed working with Neurology patients.
Nicola specialised in MS in 2016, she is currently part of a team of 3 nurses looking after a caseload of 600 PwMS at Hillingdon Hospital, working as part of a wider MDT on an inpatient Neurology Rehabilitation ward.
Nicola always wanted to specialise in Neurology after caring for a MS patient in her personal life when she was younger, however the opportunity unfortunately did not arise till 2016.
Nicola won a chief executive award in her first year as an MS Specialist Nurse, which was partially nominated by members of the public.
At the beginning of the first Covid Pandemic lockdown Nicola was redeployed 3 days a week onto the ward as a senior in charge of the ward, whilst simultaneously doing her MS nurse role after being on the ward and on the other 2 days of the week. This was a very challenging but rewarding experience looking after complex Neurology Rehabilitation patients, alongside Covid positive patients, and palliative patients.
Nicola continues to support the Rehabilitation ward team whilst back in her MS role full time.
Nicola loves being an MS Specialist Nurse, being part of a unique MS service and being part of the wider MDT team both on the ward and Imperial MS service.
Nicola very recently completed module one of the MS Academy Intermediate Class and is busy working on her project in collaboration with a couple of MDT members from Charing Cross Hospital.
Nicola Faulkner is a contributor to the following academies
On Demand Events
Nicola Faulkner spoke at these On Demand events...
---