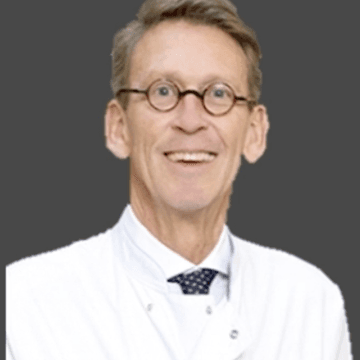 Prof Philip Scheltens
Professor of Cognitive Neurology and Director
Alzheimer Center at Amsterdam University Medical Centers
Dr. Scheltens is Professor of Cognitive Neurology and Director of the Alzheimer Center at Amsterdam University Medical Centers. His main clinical and research interests are Alzheimer's disease, vascular dementia, frontotemporal dementia, magnetic resonance imaging, PET imaging and fluid biomarkers. He is active in the field of biomarkers and clinical trials and has been the national PI for over 35 studies, including phase 1-3 multicenter clinical trials. He founded and directs the Alzheimer Center since 2000, from which over 68 Ph.D. theses have appeared since then. In 2013 he co-founded the Dutch national plan against dementia (Deltaplan Dementie) and serves as chair of the board since then. He is also the co-editor-in-chief of Alzheimer's Research & Therapy, one of the leading journals in this field.
He has authored over 1013 peer-reviewed papers and > 75 book chapters. Dr. Scheltens co-edited the books on Magnetic Resonance in Dementia and Neuroimaging in dementia (Springer), Neuroimaging in Dementia (Springer) and co-edited the book on Functional Magnetic Resonance Imaging: Clinical Applications (Oxford University Press). In 2011, he was elected as member of the Royal Dutch Academy of Arts and Sciences (KNAW) and served as Secretary General until 2020. In 2016 he was awarded the European Grand Prix for Alzheimer's Research.
He is co-leading and participating in various EU projects, such as IMI-EPAD, IMI-AMYPAD, EMIF-AD, RADAR-AD, Euro-Fingers.

Prof. Philip Scheltens is a contributor to the following academies
Events
Prof. Philip Scheltens is speaking at these forthcoming events...
---