A successful seventh Dementia MasterClass
Event reports
---
---
Our seventh Dementia MasterClass has just completed; we reviewed how it went.
This was the first Dementia MasterClass post-pandemic and we had taken the break as an opportunity to review and revamp the programme. The updates were quite significant, both in terms of content and style, but these changes to topics and format have been very well received by delegates and speakers alike.
The MasterClass content has moved into giving equal time and weight to the behavioural, psychological and social elements of supporting and managing dementia, alongside the neurophysiological aspects of different dementias.

'I enjoyed the entire course and have lots of learning/tips and networking links that I will take back into practice. Thank you all.'
Dementia MasterClass7 delegate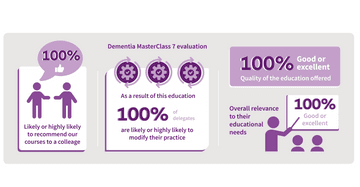 Breakout sessions and case-based discussions throughout the course provided opportunities to pull apart complexities and discuss medical and therapeutic management of a range of symptoms and situations.
'Fascinating; content that I haven't heard anywhere else before, even though it's so important.'
Delegate comment on session around intellectual disability and dementia
'A genuinely passionate delivery; practical approach and many things to take back.'

Delegate comment on breakout session for acute liaison service
This MasterClass was our first with an intermodule project to complete and present, and the work done as a result was brilliant.


Head of Faculty, Prof Iracema Leroi, said:
'There was a fantastic output in terms of quality and number of projects resulting from this Dementia MasterClass. Most delegates followed a really robust audit or quality improvement methodology.
Many delegates said that, without the Academy structure and support, they wouldn't have carried out this work - which demonstrates how the course can have a real impact on individuals with dementia.'
Related articles
Promoting prevention, supporting management
Led by proactive clinicians determined to see improvement in the way we prevent, diagnose and manage dementias, Dementia Academy supports healthcare professionals with the latest tools, resources and courses to do just that.