Promoting prevention, supporting management
From prevention and early recognition through to the end of life, this Academy is at the forefront of optimal care modelling with its interactive Care Pathway and new Brain Health Clinic blueprint.
Search Dementia Academy MasterClasses and Events
Promoting prevention, supporting management
Led by proactive clinicians determined to see improvement in the way we prevent, diagnose and manage dementias, Dementia Academy supports healthcare professionals with the latest tools, resources and courses to do just that.
Healthcare professionals have come together from across different backgrounds, localities, experiences and service models to develop our courses. They make up our valued Faculty, and are constantly shaping and updating the content and style of delivery to maximise its relevance and practicality.
As with all our Academies, there is a strong emphasis on the practical application of learning, but with dementia, this brings a strong focus on prevention and risk modification. Equipping delegates with both the knowledge and toolkits they need, this collegiate community is working hard to promote brain health and dementia prevention as well as early diagnosis and optimal management.
This Academy is leading the way through national consensus guidance which can in turn be used to improve local service models. Our first Academy to develop a locally-tailored course, 2021 will see a bespoke training series for a whole spectrum of healthcare practitioners from GPs and community services to specialists and consultants. This locally-tailored education in mild cognitive impairment aims to inspire a collaborative approach to quality improvement projects in the area.
Forthcoming Dementia Academy MasterClasses and events...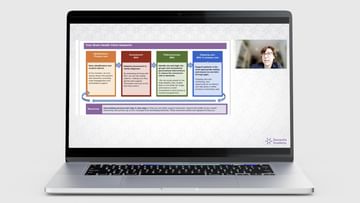 Mild cognitive impairment 3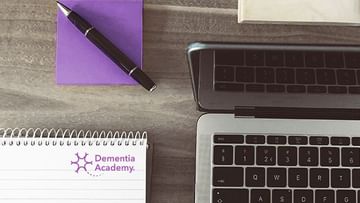 International Dementia Academy South Asia 2
---
On Demand Webinars
Miss out on a webinar? Had to leave an event before a keynote speaker? Our catalogue of on demand sessions ranges from short videos and podcasts, to webinars and full events, giving you an opportunity to learn and develop in the areas that matter to you, in your own time...
---
About
From prevention and early recognition through to the end of life, this Academy is at the forefront of optimal care modelling with its interactive Care Pathway and new Brain Health Clinic blueprint.
Dementia Academy offers a unique opportunity for healthcare professionals to receive expert training in dementia.
Following in the successful footsteps of the Parkinson's Academy which was established in 2002, the Dementia Academy delivers an innovative educational programme in the field of dementia. The MasterClass aims to provide a structured training programme for clinicians who seek formal training in both the clinical and managerial aspects of running a 'dementia service'. The educational style of the Academy provides unique clinical skills enhancement and service development.
The Dementia MasterClass is for primary and secondary care clinicians, including nurses, GPwSIs, geriatricians, old age psychiatry consultants and registrars. The training course will cover topics including:
Practical neuroimaging for dementia
Less common forms of dementia
Practical dementia assessment
Primary care aspects
The acute setting – including delirium assessment
Psychiatric and behavioural disturbances
Cognitive impairment
Workshops around: driving and legal aspects, carer support, community support, OT assessment
The Alzheimer's MasterClass is intended for those who are already dementia specialists such as those from neurology or old age psychiatry, geriatricians or care of the elderly consultants. It dives deeply into:
the advanced aspects of diagnosis,
neuroimaging in AD,
cognitive assessments,
clinical trials,
the global development perspective,
the use and development of fluid biomarkers,
the state of the art in cognitive assessment.
If you are a GP, pharmacist, specialist nurse, physiotherapist or other allied healthcare professional with an interest in developing your skills in dementia, please contact us to register your interest for courses tailored to your needs in the future. The Dementia Academy draws on the expertise of leaders in the field who deliver top quality education in small groups of approx. 30 and a relaxed atmosphere. The courses have the input from a range of disciplines, and of course from patients themselves.
"I would like to reiterate our appreciation of the excellent teaching and professionalism of the team at the Dementia Academy."
MasterClass Feedback
Dr Ross Dunne at our MasterClass 2017 in Manchester
Not only does the Academy provide updates on the evidence base for managing dementia and practical support on how to develop an dementia service, the course is also an invaluable opportunity to establish an ongoing network of peer support.
The Academy MasterClass programmes are approved by the Federation of the Royal Colleges of Physicians of the United Kingdom. The 2018 two-day Dementia MasterClass was awarded 12 category 1 (external) CPD credits. Please note that the credits are subject to approval of the final programme.
→ Why our Dementia Academy is so essential to healthcare – and what it's doing next
Supporters
Our work is made possible because of the wider support we receive, and we are incredibly grateful. Thanks to that support, we are transforming healthcare and changing the lives of people living with neurological conditions.
Become a supporter
---
Articles
Dementia Academy
News and articles
Our first ever year supporting individual intermodule projects at Dementia Academy, we are particularly excited to see the work produced, the impact it has had and the learning captured by delegates across 2022-2023.
Read more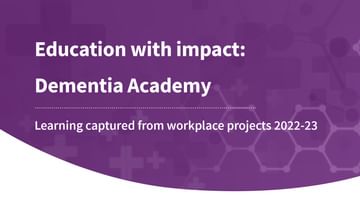 04 Dec 2023
Posted in
News
27 Oct 2023
Posted in
News
---
People
Academy and faculty leaders
We are led and supported by experts with a variety of backgrounds across a range of disciplines. By bringing different passions to the Academy, they ensure we maintain a high quality of content and information across a diverse field of knowledge.
---
Projects
Projects – putting learning into practice
Taking practical education to a fundamental level, some of our courses include a workplace project. An opportunity to test new knowledge and skills and to improve local services, delegates are offered mentorship and encouraged to support their peers as they continue to develop their specialism in a way that directly impacts their patient's outcomes.

Attendees have free reign over this project. It might be service delivery, patient management or drug treatments, and it could take the form of a service description, an audit, or another form of research. It should meet a local need.
When complete, the project closes with a presentation to the other course members, faculty, and often their managers, commissioners or other people of influence in their area.

---
Resources
Dementia resources and knowledge
Access a collection of resources for Dementia professionals, including COVID-19 information, webinars, podcasts, event reports and an archive of Academy newsletters.