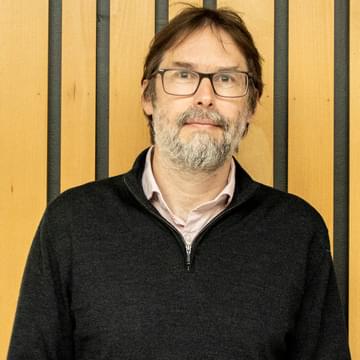 Daniel Blackburn
Senior Lecturer and Honorary Consultant Neurologist
Sheffield Institute for Translational Neuroscience
Dr Daniel Blackburn's research interests are into non-invasive diagnostic tests for early dementia or cognitive impairment using electroencephalography (EEG) and conversation analysis. He has helped co-create a tool (CognoSpeakTM) that asks questions using a 'talking head' on a laptop, tablet or smartphone and carefully analyses the answers to detect a decline in cognitive health including very early signs of dementia in speech patterns.
Language impairments occur early in Alzheimer's disease but can be easily missed by non-expert clinicians. Daniel is interested in the features that can be detected during normal interaction. He worked on a study investigating this with linguist assessments of audio and video recordings from memory clinics. In order to make this a scalable and cost-effective solution, Daniel has co-created an automated system; CognoSpeakTM. It is consistent and patients can do the test at home.
In the future it is hoped this will allow GPs and memory clinic doctors to track patients' cognitive health remotely and make quicker decisions about treatment and hospital appointments.
Daniel Blackburn is a contributor to the following academies