Living well with MS
News
---
---
The Living well with MS workstream group established a number of task and finish groups at the end of 2020 to take forward different areas of work for 2021.
Here's a brief update on four of our work areas at the moment:
Developing a 'Living well with MS' questionnaire and supporting resources for use in routine clinical practice

Gathering and analysing data to understand the impact of socio-economic status and lifestyle-related comorbidities on emergency admissions

Scoping out the current wellness and lifestyle-modifying support being referred to for, or accessed by, people with MS around the country

Rolling out a disease-modifying clinic
Living well with MS questionnaire and supporting resources
Our Living well with MS questionnaire is developed for use in routine neurology clinics to help healthcare professionals address lifestyle and behaviour changes that could help them manage their MS better. Intended as an eventual online tool to optimise how people manage their MS, people with MS will be able to use the tool directly to access resources tailored to their interest or need, or as part of a clinic discussion with support from their healthcare professional.

The questionnaire is being developed by a group of 26 people living with MS and a group of healthcare professionals in the Living well with MS workstream. It uses a mixture of clinically validated questions from existing tools, and qualitatively validated questions developed by expert consensus.

The supporting resources are being developed by healthcare professionals in our wider workstream with expertise in the core areas of nutrition, mental health, movement and exercise, and sleep, to correspond with the four themes of the questionnaire.
The next step is to pilot the questionnaire in a small number of clinics over the next several months. We intend to gather feedback both from those with MS completing it, and from the professionals using it as part of their clinics, so that it can be refined further and tested more widely.
If you are interested in piloting the Living well with MS questionnaire in any of your clinics, and sharing your experiences to help us optimise its format, function, and supporting resources, please contact Charlie Peel at charliepeel@neurologyacademy.org.

Gathering and analysing data
The task group focussing on gathering and analysing data and evidence around wellness and lifestyle implications in MS have submitted a paper to ECTRIMS this year entitled 'The Wellbeing Gap: one-size MS service does not fit all'.

The paper states that 'Socioeconomic status (SES) is a major determinant of health outcomes. We explored emergency hospitalization in people with MS (PwMS) and comorbidities that are/may be associated with lifestyle factors, linking to deprivation and SES.'

Analysing hospital episode statistics (HES) data for four differing geographical areas across England, the findings supported a need for further exploration and subsequent action in this area in the future.

ECTRIMS will be fully digital this year, taking place between 13-15 October 2021. The paper's findings will be shared following the event.

Scoping lifestyle and wellbeing services
To help further our aims to 1) make sure that everyone with MS can get access to the most relevant information and support for them around lifestyle and wellness, and 2) help healthcare professionals know what information might be useful and how best to signpost people with MS, we're beginning a basic scoping exercise.

We would like to find out more about the range of services that are available around the country, how much these are used or accessed, particularly by people with MS, and to understand how to increase access to, and use of, these sorts of services.

This is a basic mapping exercise aimed at anyone involved in MS services and care from primary and community care through to specialist services. It is intended as a starting point for gathering information.

Please complete the brief scoping survey or share it with your colleagues and local services.

Disease-modifying lifestyle clinic
Our disease-modifying lifestyle clinic resource is available for healthcare professionals looking to run a group clinic, whether virtually or in person, to help people with MS and their family members to understand the impact that lifestyle and behaviour can have on their MS - and how to make changes that help them live their best lives.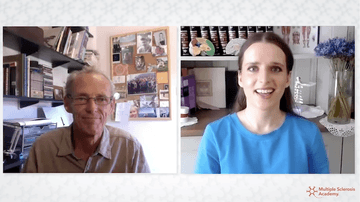 Early feedback from clinicians who have used the slides, video, letter template and other resources to support a local clinic have been very positive. If you have used - or plan to use - the clinic model and resources in your locality, please do share your experiences with us via the short survey alongside the resources.
Related articles
Encouraging excellence, developing leaders, inspiring change
MS Academy was established five years ago and in that time has accomplished a huge amount. The six different levels of specialist MS training are dedicated to case-based learning and practical application of cutting edge research. Home to national programme Raising the Bar and the fantastic workstream content it is producing, this is an exciting Academy to belong to.