MS Academy Christmas Newsletter 2020
News
---
---
'Twas the night before Christmas, when all through the house, not a creature was stirring, not even a mouse ……'
From 'A Visit from St. Nicholas', by Clement Clarke Moore
It is hard to apprehend that we are rapidly approaching the end of 2020, an extraordinary year that will almost certainly result in the adoption of the new lexicon, i.e. the era before COVID-19 and the era after COVID-19. This is not necessarily about the novel coronavirus that caused COVID-19 and the pandemic, but about the changes that have taken place in the way we practice our craft, how we run and configure our healthcare services and how we educate ourselves and the next generation of multiple sclerosis (MS) healthcare professionals.
The Neurology Academy was quick to adapt, postponing and moving most of its MasterClasses online, reconfiguring and moving our annual Raising-the-Bar (RtB) meeting online. We also launched and ran a remarkable series of COVID-19 related webinars, which consisted of 45 webinars (28 MS, 12 Parkinson's, 5 Dementia). and resulted in 2,765 attendees and more than 12 thousand YouTube views.
It is clear that online education and meetings work and I can't see us going back to the same-old model of face-2-face education. What is clear is that there are advantages and disadvantages to both and I see a future when we meld the two and create a hybrid system to get the best of both worlds. I am sure MS Academy is in the best position to take advantage of this brave new world in the post-COVID-19 era and I sincerely hope that you, members of MS Academy, will volunteer to help keep this remarkable organisation going.
As you are probably aware I have personally had a rather traumatic 2020. In early November whilst out running I was hit by a motorcycle and sustained a mild head injury, a fractured pelvis, a fractured cervical spine, some fractured ribs and multiple soft tissue contusions and abrasions. I had an internal fixation of my pelvis followed by decompression and stabilisation of my cervical spine. As a result of the injury, I suffered cervical radiculopathy from damage to the C7 and C8 nerve roots. The pain associated with the nerve damage was quite unbearable. To control the pain I was on a combination of morphine, gabapentin and a non-steroidal anti-inflammatory medication. The torpor associated with morphine in combination with gabapentin made me realise what some of our patients must experience when we prescribe sedating medication. Being an NHS patient has taught me so much, and the insights I have obtained from being a patient are something that I would like to bring to the MS community, possibly via one of our MasterClasses or one of the workstreams of our Raising-the-Bar (RtB) initiative. There is nothing like hands-on experience on the coal-face, particularly, the patient coal-face to make you realise how special and extraordinary the NHS is as an organisation. In addition, we have a lot to learn from other disciplines.
One of the insights was around informed and shared-decision making in clinical practice. It was quite clear to me that it takes more time than you realise to become informed and to be able to participate as an equal partner in healthcare decisions about your care. I seriously think we need to reassess our position on this in MS; particularly since the treatment landscape has become so complicated. I propose we debate replacing the term shared-decision making with the term guided-decision making. At the end of the day, the healthcare professional is in a much better position to guide people with MS to help them make the best decision about their treatments.
Becoming an invalid and not being able to live independently, albeit for a short period of time, was a real eye-opener. As an in-patient I was dependent on the nursing staff for most things and on discharge my wife was my carer. As most of my injuries are potentially reversible and things are improving I consider myself lucky. For people with MS this is not always the case. I can only imagine the mental toll the latter has on our patients and their families; realising that things will get worse in the future is difficult to contemplate. I will have more empathy with patients and their families around worsening disability and how unappreciated carers are in the management of MS. I think we need to include carers in our sphere of influence. What can we and MS Academy do to help carers adapt to their roles and what can be done to make sure they have the right skills? This is something we as an MS community should explore as part of the RtB initiative and to make sure we share best practice.
Whilst flat on my back I had the opportunity to watch two of the three recorded RtB sessions I missed from our annual meeting because of my accident. On watching the recordings and reflecting on the progress we have made, I realise what a difference the RtB initiative will have on the MS community and MS care in the UK. The fact that 83 centres and 280 delegates participated in the meetings means we now have critical mass. The level of engagement with the audit and data workstream shows how important our work has become. We now need to make sure we don't lose momentum and keep pushing for service improvements across the UK. We are making a difference – and will continue to do so.
I was also over the moon with the progress that MS Academy's leadership course has made. COVID-19 has shown us that leadership is something that should not be underestimated. It is inspired and trustworthy leadership that makes the difference. When you admire and trust a leader who has vision and conviction you are more likely to listen and follow. I feel very proud that MS Academy is training the next generation of MS leaders, who I am sure will be critical in the next phase of the transformation of NHS services for people living with MS.
It hit home to me watching Gogglebox a few weeks ago about how important Christmas is to the family and extended family. I was truly touched to see Goggleboxers burst into tears when Boris Johnson announced the relaxing of the COVID-19 lockdown rules for Christmas. One Goggleboxer said she could now order the Christmas turkey for the family dinner, whilst another couldn't wait to give her gran a hug. The modern Christmas is about family, which is why my thoughts go out to all those unsung heroes and heroines who will keep the NHS working this festive season; thank you.
And a special thought for Dr Peter Tun, and his family. Peter was a graduate of MS Academy and active member of our organisation. He is one of many healthcare professionals from an ethnic minority background who died from COVID-19. I sincerely hope Peter's death was not in vain and that the enquiry triggered by his death will allow us to learn why so many of our colleagues from ethnic minorities have succumbed to this virus. To honour Peter's memory we created the Peter Tun prize for the best MS MasterClass project, which was won by Chandni Radia, of Imperial College Healthcare NHS Trust this year. Let's keep Peter's flame lit.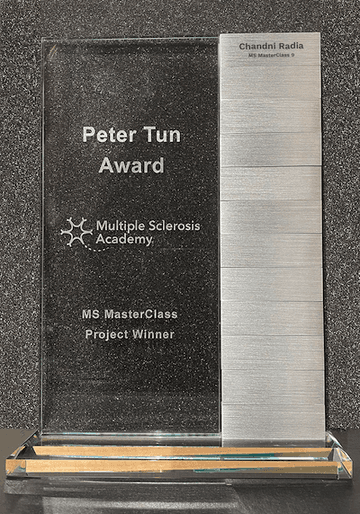 I think it is also opportune to thank the staff of Neurology Academy for their dedication and hard work under trying conditions; without them we would not be in the position we find ourselves today. Also a big thank you to our sponsors for their unconditional funding that is helping us make a difference to people living with MS. It is quite clear that we are only at the beginning of a long journey to make sure no patient with MS is left behind as we transform their care with what we are doing in the MS Academy. Although we have many, many, miles to go before we sleep, I sincerely hope you have a very happy and relaxed festive season and thank you for your support this year.
Stopping by Woods on a Snowy Evening
By Robert Frost
Whose woods these are I think I know.
His house is in the village though;
He will not see me stopping here
To watch his woods fill up with snow.
My little horse must think it queer
To stop without a farmhouse near
Between the woods and frozen lake
The darkest evening of the year.
He gives his harness bells a shake
To ask if there is some mistake.
The only other sound's the sweep
Of easy wind and downy flake.
The woods are lovely, dark and deep,
But I have promises to keep,
And miles to go before I sleep,
And miles to go before I sleep.
Related articles
Encouraging excellence, developing leaders, inspiring change
MS Academy was established five years ago and in that time has accomplished a huge amount. The six different levels of specialist MS training are dedicated to case-based learning and practical application of cutting edge research. Home to national programme Raising the Bar and the fantastic workstream content it is producing, this is an exciting Academy to belong to.