Developing pharmacist tool to aid conducting SMRs in patients living with MS
---
By
Krystyna Kristosiuk, PCN Pharmacist, PCN Chester-le-Street
---
Structured medication reviews were introduced as part of DES on 17/09/2020. As per specification ''SMRs are designed to be a comprehensive and clinical review of a patient's medicines and detailed aspects of their health. They are delivered by facilitating shared decision-making conversations with patients aimed at ensuring that their medication is working well for them. Evidence shows that people with long-term conditions and using multiple medicines have better clinical and personal outcomes following a SMR'
At the beginning of the year, the GP surgeries were asked to start conducting SMRs initially in patients who were on >10 items. One particular week pharmacist came across 4 patients living with MS and she realised that there was a gap in her knowledge. Subsequently searches were done and further learning sought from MS Academy to help her upskilling. The proforma was created as well to aid conducting SMRs. The original idea was to create the tool in that way so it could be replicated by other pharmacists or healthcare professionals to streamline the SMR and use the time more efficiently during the review by allowing the patient to prepare and think about their priorities for the SMR in advance. On average SMR takes 30-45minutes if the flow of conversation is smooth or longer if more distractions are present. Hence, the proformas were messaged to the patients via AccuRx at the time of telephone appointments being booked with the pharmacist to conduct SMR.
Subsequently the idea was created to build the EMIS template so the information could be coded and retrieved if needed. As the project and service is new to the GP practice, it is still in the development stage. The patient satisfaction questionnaire is yet to be created to assess patients' feedback on the service and seeking improvement ideas. Also feedback to be sought from secondary care MS specialists and MS nurses if copy of SMR would be of any value to them if it was to be sent 'For information only'. The created proforma with 20 questions is not exclusive and can be amended in due course. Depending on PSQ results the idea of creating satellite pharmacist clinic conducting SMRs in patients living with MS across PCN could be explored. PCN being an umbrella organisation for a few GP surgeries hence it seems sensible to increase the quality of care across the area by upskilling current primary care pharmacists' knowledge about the condition and providing better quality support for the patients. At the same time increasing the general knowledge of the patients about multi-disciplinary teams working at GP surgery.
More MS Academy Service development Projects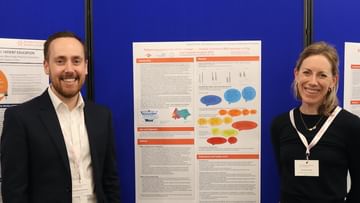 Encouraging excellence, developing leaders, inspiring change
MS Academy was established five years ago and in that time has accomplished a huge amount. The six different levels of specialist MS training are dedicated to case-based learning and practical application of cutting edge research. Home to national programme Raising the Bar and the fantastic workstream content it is producing, this is an exciting Academy to belong to.