Improving prompt access to Community MS nursing service
---
By
Paula Cole, CNS Multiple Sclerosis, West London NHS Trust
---
Write up
Background

Enable is a specialist adult multi-disciplinary team comprising of physiotherapy, occupational therapy, clinical psychology, counselling, speech and language therapy and MS Specialist Nursing. The team provide community rehabilitation care for patients with neurological conditions (progressive and acquired), including stroke. The service does not have a Consultant in rehabilitation medicine but support can be access from General Neurology Service at the local hospital via the GP.
The MS Specialist Nurse see people all types of MS providing clinic for relapse management, newly-diagnosed and support patients on disease modifying treatments who attend other London based hospitals but with a focus on the more complex case management, as thus many of these individuals are no longer under the care of a Consultant Neurologist. The Enable MS service register has a case load of 388 people know with MS, managed by a part-time MS nurse of which 139 are on the complex case register.
A patient's experience usually starts with a telephone call. It was brought to the service attention that patients or carers requiring support were having difficulty in accessing the MS nursing service from the onset of the pandemic, with an increase call volume from those who attend other London hospitals for disease modifying therapy. The local contact number which a person with MS are given to use in case they experience deterioration in their symptoms or think they may be having a relapse should connect them with someone they can speak to who is able to take their details, record the nature of the problem and explain to them what the next steps will be (1,2,3,4).
Meetings and discussions took place with involvement of all service managers and Operational manager with feedback from all clinical and admin staffs on how these challenges could be met. The current system in how patients access the Enable service was not straight forward and not in line with standard practices, as an example shown by other services. The aim of this small project was to provide and develop an efficient and effective admin hub, single point of contact, to respond to callers in line with NICE Multiple Sclerosis (MS) Management Guidelines that adults with MS should have an appropriate single point of contact who coordinates access to care from a the multiple-disciplinary team with expertise in MS (3,4).

Current service, Outcome and future plans:
The Enable service was based across 2 sites, one site at a shared centre whilst the other was based in the local rehabilitation hospital, with no admin staff. The process of change would be achieved by redesign of the service placing it at one centre, the development of an admin hub, in addition to allocate an enable admin staff. All admin staffs need to have the understanding and recording of calls from any MS patient using simple call template within the individual electronic record in addition to recording clearly when the individual can expect a call back. It is anticipated that there will always be someone available during annual leave periods, to ensure continuity of service provision.
The therapist's knowledge in dealing with MS symptoms is variable, with some feeling much more confident than others. So, discussion and education is being provided to upskilled existing skilled Physiotherapists (P/T) and Occupational Therapists(O/T) to be able to manage and advice on all aspect of MS patient care.

Since changes to the service an audit was completed sending questionnaires to 100 patients from the Enable service MS database with a positive response of over 72.2% patients were able to access the MS nursing service, through a single point of contact and 21% would accept clinical support for their MS symptoms from an O/T or P/T with MS expertise. For anyone calling to report acutely deteriorating MS symptoms, someone with MS expertise should aim to respond to the individual within 2 working days (2) this would be the MS Nurse or in absence a clinical staff O/T or P/T. Another suggestion from the questionnaires were that of improving access to Neuropsychology for MS patient in Ealing, although IAPT provided a good service, their needs are not always understood. This provision was under review and a positive outcome is 1.2 wte Neuropsychologists in post for the Enable service with another recent appointment 0.2 wte to develop services for Ealing MS patients.

References:
More MS Academy Service development Projects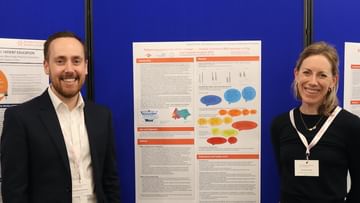 Encouraging excellence, developing leaders, inspiring change
MS Academy was established five years ago and in that time has accomplished a huge amount. The six different levels of specialist MS training are dedicated to case-based learning and practical application of cutting edge research. Home to national programme Raising the Bar and the fantastic workstream content it is producing, this is an exciting Academy to belong to.