MS service improvement project at ESHT
---
By
Dr Monika Lipnicka-Khan & Dr Yuan Kai Lee, Consultant Neurologists, Eastbourne District General Hospital
---
Over the last few years we are facing rapid development in MS therapies. The management of MS patients became more complex and often needed to be transferred to tertiary neuroscience centres. The new structure put an enormous pressure on our local MS services due to high number of patients requiring regular monitoring of DMT therapies and management of their complications.
The increased demand and limited resources made it impossible for our Trust to meet the service targets of MS management. Our neurology patients started to face long waiting time for assessment, diagnostic and eventual provision of disease modify therapies. Our tertiary centre was also facing MSologist shortage and compounded the waiting time for DMT assessment. After highlight the service gap and submission to the management of ESHT, we were very fortunate to be able to successfully advertise and appoint a new consultant neurologist with MS subspecialty expertise to boost our manpower and skill mix of our Neurology Department.
The new MSologist mapped our MS service pathway, redesigned our local MS service and set up a MS DMT and relapse clinic at ESHT to work in compliment with our regional MS services at BSUH. Nearly all our neurologists in the department are now enrolled in the MS Academy to updates our skills in managing MS and neuro-inflammation patients in our catchment area. Our neurology service underwent significant improvement as a result.
In cooperation with our tertiary neuroscience centre in Brighton we are now able to offer timely accesses to full range of disease modify therapies closer to patients' homes. We have dedicated neuro-inflammatory clinics and arrangements with ambulatory care, infusion unit and neurorehabilitation to speed diagnostic process and management. We plan to establish rapid access MS clinics.
We work together with other specialities including Acute Medicine and Ophthalmology and now have weekly Neuro-Ophthalmology MDT and Neuroradiology MDT besides our Regional Neuroscience MDT meetings. This new service framework is now in place and the transformation had gained traction and in good progress as per GIRFT recommendation by RCP/ABN to modernise our local Neurology Service.
There is still a lot to be done but our service is improving as well as the quality of care we offer to our MS patients and other neurology patients.
More MS Academy Service development Projects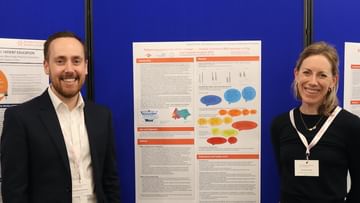 Encouraging excellence, developing leaders, inspiring change
MS Academy was established five years ago and in that time has accomplished a huge amount. The six different levels of specialist MS training are dedicated to case-based learning and practical application of cutting edge research. Home to national programme Raising the Bar and the fantastic workstream content it is producing, this is an exciting Academy to belong to.