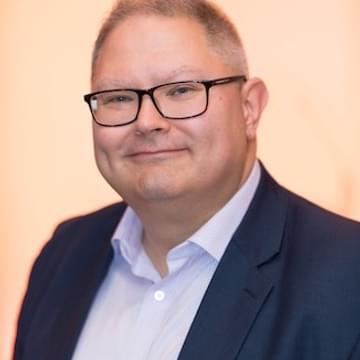 Dr David Rog
Consultant Neurologist
Salford Royal
Dr Rog studied medicine at Nottingham University Medical School and received his BMedSci (Hons, 1st class) in 1994 and BM, BS in 1996.
After general medical training in the North West, he trained in Neurology at the Walton Centre, Liverpool and there he undertook his MD in the measurement and treatment of neuropathic pain in multiple sclerosis. His clinical research with Sativex was recognised by the US Consortium of MS Centers Whitaker Track Award. Dr Rog has published in the areas of multiple sclerosis, cannabinoids and neuropathic pain.
Dr Rog completed his neurological training between 2002 and 2006 on the North West rotation at Lancashire Teaching Hospitals Trust and Greater Manchester Neuroscience Centre, based at Salford Royal (SRFT). He was appointed Consultant Neurologist with a specialist interest in multiple sclerosis (MS) at Salford Royal in 2007. He helps to head up the MS team and run the regional MS disease modifying treatments, responsible for the assessment and follow up of over 800 treated patients. An audit of this service was recognised by third prize in the MS Society's Service section of their MS Frontiers Awards.
Since his appointment, Dr Rog and colleagues wrote the second edition of Multiple Sclerosis at your Fingertips (Class Publishing 2010) which was shortlisted for the 2010 BMA Book Awards Popular Medicine Category. Dr Rog has lectured for the MS Society, MS Trust and contributes to patient programmes for newly, locally diagnosed people with MS. He has developed several teaching tools for healthcare professionals working with people with MS, including an audiovisual atlas of clinical examination clips and patient descriptions of their symptoms. Dr Rog has organised North West regional teaching programmes in MS for neurology trainees, receiving high levels of feedback.
Dr Rog is a principle investigator on several multinational MS clinical trials of disease modifying treatments and has achieved the important target of randomising the first UK patient in two studies.
Watch video:
Dr David Rog is a contributor to the following academies