About Registering and Logging In
Neurology Academy's new website has brought together all the different faculties into one space so you can easily access courses via a bespoke virtual learning space flick across content from MS to Parkinson's to Palliative Care and back with ease.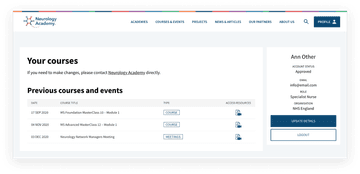 If you had access to course resources via the old website....

If you have attended a courses since the start of 2020, an account has been prepared for you so that you can now access course resources via your own user dashboard. You should have received an email with instructions on setting up your password to complete your access.
If you have not received that email, please contact info@neurologyacademy.org and we will be glad to help you restore access.
---

To log in to your account...

If you have completed your set up steps from the email, you can click here to log in to your account.

---
If you would like access to educational resources for your Neurology specialism....

Once you have completed registration for an event, course materials will be made available to you via your own Neurology Academy dashboard. Click here to explore our forthcoming courses.