Cutting Edge Science for Multiple Sclerosis 2021
Event reports
---
---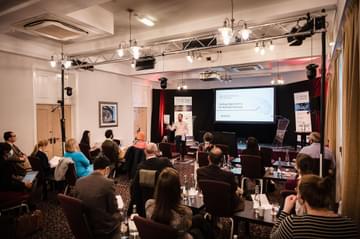 Our first ever and much anticipated Cutting Edge conference for multiple sclerosis (MS) took place over 9th and 10th December this year, and brought together experts in MS to delve deeply into the latest research, newest theories, and cutting edge practice in diagnosis, treatment and management of MS. Much anticipated, its early scheduling having been deferred due to the pandemic.
30 MS specialist consultants attended the interactive, debate-focussed conference in Sheffield for a packed two-day programme with time for to connect over a networking dinner.
The meeting focussed on addressing challenging, controversial topics around the management of MS, against the backdrop of increasingly complex care, new and evolving treatment paradigms and the emergence of new disease-modifying therapies.
High-energy, professionally-competitive debates discussed use and derisking on the growing pool of treatments, including the emergence of new biomarkers and whether or not HSCT should be made available very early in the course of MS.
Each debate statement began with a slid-do poll to understand the overall standpoint of the audience, followed by two speakers making a clear and evidence-based argument first , then against the statement. Following this, the debate became interactive, with questions, comments, arguments and additional evidence offered by the specialists delegates. Closing statements from each debater preceded a final sli-do poll to ascertain if the 'feel' in the room had shifted.
Those debating brought a jocularly competitive feel to the meeting and with good-natured heckling on occasion from the audience, there was a distinct sense of camaraderie across the conference as a whole.
Highlights included the debates around treatment in pregnancy, and use of serum neurofilament light markers. Drs Ruth Dobson and Karen Cheung argued whether the risks of using monoclonal antibodies in pregnancy and breast-feeding to treat women with MS are 'over-egged', and whilst Karen cunningly cited some of Ruth's own work against her, Ruth ultimately swayed the room won despite arguing against her personal stance.
The debate around 'whether serum neurofilament levels are ready for prime time' between Drs Nij Mistry and Sharmilee Gnanapavan was another entertaining one. Full of persuasive evidence, ultimately Nij's debate skills won out, particularly when he turned Sharmilee's own words against her.
The brilliant debates were concisely summarised by Dr David Paling, co-chair of the meeting and member of the MS Academy Faculty, in his closing remarks for the conference, reminding everyone of the variety of perspectives presented and confirming the 'winners' of each session.
Each of the topics debated will be written up in the coming weeks for all who could not attend, or as an aide memoire for those who did - a great opportunity for all to both hear the arguments put forward and challenge their own perspectives on these controversial topics.

This activity has been supported by sponsorship from Roche Products Ltd, Biogen Idec Ltd and Janssen-Cilag Ltd. The sponsors have had no control over the educational content of this activity.

Encouraging excellence, developing leaders, inspiring change
MS Academy was established five years ago and in that time has accomplished a huge amount. The six different levels of specialist MS training are dedicated to case-based learning and practical application of cutting edge research. Home to national programme Raising the Bar and the fantastic workstream content it is producing, this is an exciting Academy to belong to.