Making national aspiration a local reality
Knowledge
---
---
Ian Pomeroy, consultant neurologist and recent Leadership MasterClass graduate, has begun raising the bar for local MS services in Liverpool by leading an integrated approach to improving care pathways. The OPTIMUM MS pathway (fig 1), a national and aspirational map to optimising care for people with MS, was released, and Ian has begun the challenging work of transferring it to his local setting.
'The OPTIMUM pathway is a sophisticated, 2-dimensional model of care, mapping both the whole of the care pathway from diagnosis to end of life, but also depicting the inter-relationships between services and the coordination required at any given point.'
'It's a lot more challenging - with NICE guidelines, you can tick them off as you meet them, but this is something you can't do on your own. It requires coordination and needs everyone to do their part.'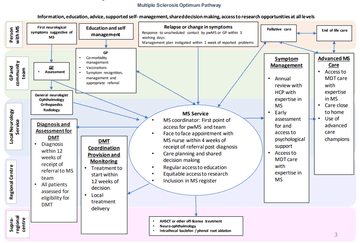 Figure 1: The OPTIMUM MS pathway overview taken from p3 of the pathway document
Beginning by holding a stakeholder event attended by people with MS, healthcare professionals, managers and commissioners, and representation from across secondary, community, primary and social care as well as the voluntary sector.
Those at the event reviewed local data, and heard from a colleague in Surrey who shared his experiences around the practical challenges of service change. An MS Society representative also shared qualitative data on people with MS's reactions and thoughts around the OPTIMUM care pathway.
Following this, the meeting workshopped priorities and next steps. Key themes came through, both in depth, such as around disease-modifying therapies, access and provision, and breadth covering the entire multi-disciplinary team and encompassing a holistic approach to care. Core areas of focus included:
Additional psychological support

Improved social support and better integration with the voluntary sector

Place-based care, particularly around access to therapies

Coordination and communication with improved integration across the whole locality

Simplification of services, both in awareness and navigation of these
'Now that we've had this focus day, we need to take this information and, working together, each take responsibility for our own areas of focus.'
A report was produced to document the meeting and capture core thoughts and actions.

The OPTIMUM Care Pathway for MS in Cheshire and Merseyside – Meeting final report
March 2021
Download now
(Optimum-care-pathway-for-MS-meeting-report-Liverpool_March-2021.pdf)
Encouraging excellence, developing leaders, inspiring change
MS Academy was established five years ago and in that time has accomplished a huge amount. The six different levels of specialist MS training are dedicated to case-based learning and practical application of cutting edge research. Home to national programme Raising the Bar and the fantastic workstream content it is producing, this is an exciting Academy to belong to.