Module 2 of the MCI course now online!
News
---
---
Module Two of our virtual Mild cognitive impairment (MCI) course is now available in your online learning space.
This module looks in depth at mild cognitive impairment of a Lewy body type - a form of MCI characterised by very different symptoms to that of other forms of dementia.

The module features an interview with Professor John's O'Brien, and as well as giving a broad background to Lewy body disease and dementia with Lewy bodies, provides practical ideas for how to improve identification of, and support for, those with MCI of Lewy body type.

Ross and John also discuss the DIAMOND Lewy toolkit, which can be found in your resource section.

To unlock Module 2, simply complete the short quiz at the end of Module 1 and input the password you are given in the space for Module 2's video, as shown in the image below.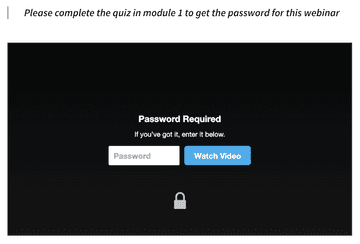 To find out more about the course, or to register to attend, please follow the link below.
Promoting prevention, supporting management
Led by proactive clinicians determined to see improvement in the way we prevent, diagnose and manage dementias, Dementia Academy supports healthcare professionals with the latest tools, resources and courses to do just that.