MS and work - an important health outcome
Knowledge
---
---
To make sure that 'no patient is left behind', the focus of the national initiative to 'Raise the Bar' for MS, addressing the social determinants of health in people with MS is a must.
With a growing body of evidence highlighting the importance of addressing social determinants of health and lifestyle factors as a core means of both managing and treating MS, the Living Well with MS workstream wants to support healthcare professionals with the tools and resources to feel confident in approaching these subjects with the MS community.
Remaining in work is one of these core areas.

'A large body of evidence indicates that unemployed people have lower physical and psychological wellbeing than their employed counterparts'
'Ready for Work' employment guide
'Work is one of the most significant determinants of health and life expectancy', states the Royal College of Occupational Health, with employment associated with positive health outcomes such as improved quality of life and a longer lifespan.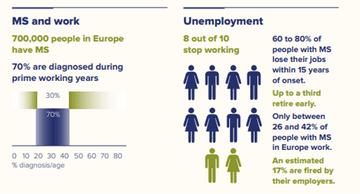 Infographics from the 'Ready for Work' publication, p4-5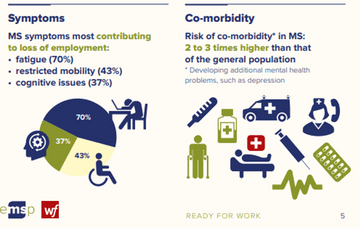 Infographics from the 'Ready for Work' publication, p4-5
Between 2016 and 2019, Shift.ms carried out a Comic Relief-funded project looking at MS and work. Their short video shares findings around the experiences of people with MS and healthcare professionals regarding remaining in, or returning to, work. It also features a range of interviews conducted with experts in this field, who share experience, expertise, and signpost towards a range of resources to support healthcare professionals in having conversations around work.
Key findings about MS and work, from people living with MS

75% say that MS affects their ability to remain in, and progress in, work.

63% felt 'very worried' about their ability to continue working.
(statistics from a Shift.ms survey of 245 UK-based MSers during the project covering 2016-2019)

15% of 8,000 respondents said that they were struggling on their current household income - and of those struggling, one third had either had to reduce their working hours or stop entirely.

22% of 8,000 respondents who had retired early or left work entirely as a result of their MS said they wanted to stay in work, but were unsupported by their employer to do so.
(statistics from an MS Society survey of 8,000 UK-based people with MS in 2020)
An additional MS Society survey of 2,000 people with MS conducted during lockdown ('Life in Lockdown') found that, of those that were in employment before lockdown, 29% had had their pay or hours of employment reduced.
In shift.MS's survey of healthcare professionals regarding their role in discussing returning to, or remaining in work with their patients, some respondents raised concerns about their skills, knowledge or confidence in supporting these discussions.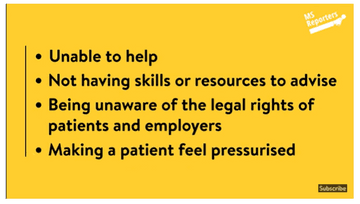 Still from video 'MS Reporters: Work as a health outcome' (4.42 of 15 minutes) highlighting some healthcare professionals concerns in discussing work and health
There is a range of tools and resources available to help healthcare professionals grow their understanding of, and confidence in discussing this vital area of health and wellness.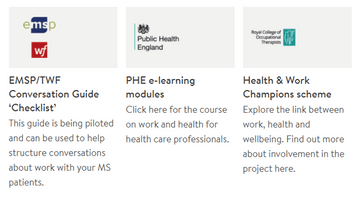 The resources highlighted on shift.MS's 'MS and Work' page at https://shift.ms/ms-and-work
When thinking about discussions around work, use the 5 R's
Raise the work question

Recognise the risk factors of being out of work

life expectancy
quality of life

Respond to straightforward work questions

Refer on - use the specialists available

Re-visit this question regularly
Shared in the MS reporter's video 'Work as a health outcome', in a section of interview with Genevieve Smyth from the Royal College of Occupational Therapists (at minute 9.38)
Find out more or access the resources
Related articles
Encouraging excellence, developing leaders, inspiring change
MS Academy was established five years ago and in that time has accomplished a huge amount. The six different levels of specialist MS training are dedicated to case-based learning and practical application of cutting edge research. Home to national programme Raising the Bar and the fantastic workstream content it is producing, this is an exciting Academy to belong to.