New charity seeks to support young people with MS
News
---
---
A new charity launched on Friday 22nd September specifically to support young people diagnosed with multiple sclerosis. MS Together was established by Amy Thompson who herself was diagnosed at the age of 21. She found it difficult to access other people who were going through the same thing as her or who were willing to share their experiences, and she wanted to plug that gap (hear more about her journey here).

Her initiative, to provide a safe space for people with MS aged 18-35 to connect with each other and find friendship and support, became the registered charity MS Together last year, and held its launch event at HSBC in London this September.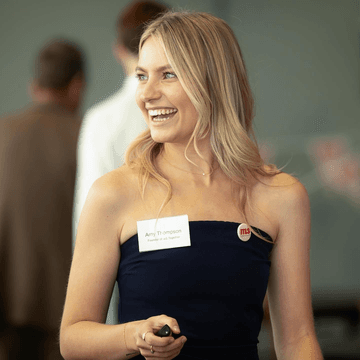 MS Together founder Amy Thompson thanked everyone who has supported the charity in reaching this launch point
'The launch event was a great success. It made me feel so proud and inspired to keep going with this journey, and I'm excited to see what the future holds.'

Amy Thompson, Founder of MS Together
A packed room of people affected by MS, healthcare professionals and other MS charities were also joined online by almost 100 others seeking to show their support for MS Together.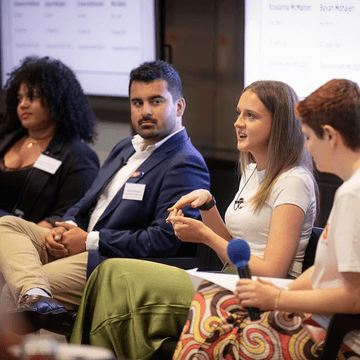 A packed room at HSBC London for the launch of MS Together
The event included a number of talks from people living with MS and MS healthcare professionals. MS Leaders Academy alumni Dr Niraj Mistry and Ruth Stross shared their thoughts and answered questions on how our understanding and management of MS has changed over the years and what the future looks like for young people with MS.

Three young people living with MS then shared their experiences of being diagnosed, and of accessing MS Together's services, followed by an inspiring interview with athlete Lina Neilson who discussed her career and journey living with MS.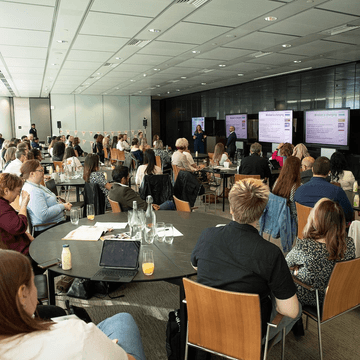 Roseanna McMahon facilitated a panel discussion between three people living with MS about their experiences
'It was highly informative hearing from Niraj and Ruth on MS over the years and how the treatment has changed within the last few decades.

It was quite emotive to hear personal stories from Amy and other young people with MS, across the event from the panel and interview with Lina Neilson, as it was so relatable to myself. It made me feel less alone with my experiences. It has made me want to get more involved with the charity and to help offer support and friendship with others like myself.'

Rhianna, living with MS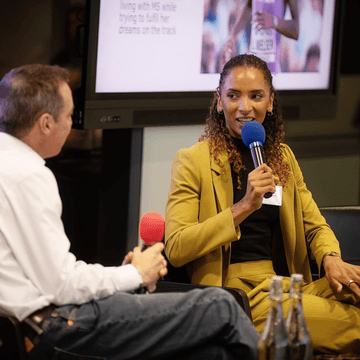 Athlete Lina Neilsen spoke honestly about her experiences living with MS
'It was such a privilege to be able to attend the Launch Event. It was great to hear Amy share her story of how it all started and the journey towards becoming a charity. It filled me with optimism for a future living with MS, together not alone. We got to meet lots of other MSers as well as neurologists, nurses and representatives from other charities.'
Sam, living with MS
'A humbling and eye-opening experience for me, hearing candidly about the experiences of younger people being diagnosed and living with MS. Clearly there were needs unmet for them and their peers; I'm so glad MS Together is here to help (and glad to be a part of it).'
Dr Niraj Mistry, consultant neurologist
'The atmosphere was incredibly electric; the friendships so genuine with a real sense of fun; so many young people with MS supporting their own self-management through networking, learning and articulating their unmet needs.

Healthcare professionals have so much to learn from MS Together members, so I'm looking forward to being a part of this partnership. It was such an honour to be present and part of such an inspirational day, thank you for inviting me.'

Ruth Stross, head of nursing at Neurology Academy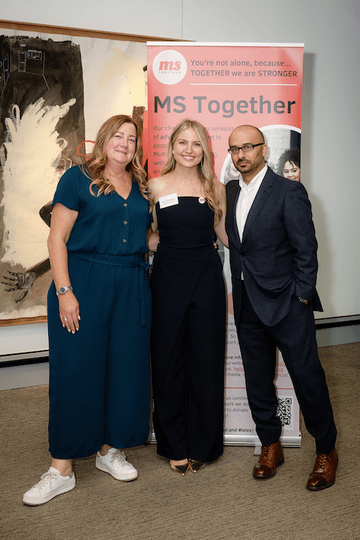 A couple of familiar faces! MS Leaders 2 alumni, Dr Niraj Mistrry and Ruth Stross with founder Amy Thompson
Related articles
Encouraging excellence, developing leaders, inspiring change
MS Academy was established five years ago and in that time has accomplished a huge amount. The six different levels of specialist MS training are dedicated to case-based learning and practical application of cutting edge research. Home to national programme Raising the Bar and the fantastic workstream content it is producing, this is an exciting Academy to belong to.