Specialist nurses share their experiences with data – and encourage others to do the same
News
---
---
Two MS nurse specialists from the Northeast of England have grappled with local data as a means of auditing emergency admissions - and have changed internal systems, staffing, and service provision as a result.
Audrey Owen and Gale Metcalfe are both MS nurse specialists in the same patch, but they work within different hospitals and have different working systems, care pathways and service models to negotiate. Auditing their emergency admissions began as an MS MasterClass project inspired by a data session as part of a Raising the Bar for MS conference - and it has changed their working practice for good.
Gale works in Leeds Teaching Hospital and has been able to establish formal working links with services like neuro-physiotherapy, whilst Audrey works in a general hospital for Calderdale and Huddersfield NHS Foundation Trust, and relies on interpersonal connections with staff in the main community provider to ensure her patients receive a joined-up service. Gale has found that she needs to seek support for internal data and coding activity from her local Quality Improvement Team whilst Audrey has made connections with her IT and data department.
Working together, collaborating with colleagues from across the MS community, and seeking support from colleagues where needed, Audrey and Gale have analysed their local HES data for emergency admissions, compared it to other areas, assessed where there are avoidable or preventable admissions, and taken steps to alter their services to intervene.

'It became a bit of a Northern venture - we've shared information along the way and had a lot of help. We're happy to help others too. It's very do-able, finding different approaches, it can just look daunting to start with!'
Gale Metcalfe, MS nurse specialist, Leeds Teaching Hospitals NHS Foundation Trust
The overview of their project can be found in the poster below. To understand the process they took, and the challenges they faced more clearly, Gale and Audrey kindly spoke to us further.
They feel that these differences make their experiences even more useful to their peers, and want to encourage other specialist nurses and allied health professionals to engage with their local data and use it to support beneficial service change.

Can MS Nurses Help Reduce Non-Elective Admission?
'Everybody should be auditing - everybody. But if you don't know how to do it, it can seem like an impossible task. But if you ask someone who's done it - we can all help each other.'
Audrey Owen, MS nurse specialist, Calderdale and Huddersfield NHS Foundation Trust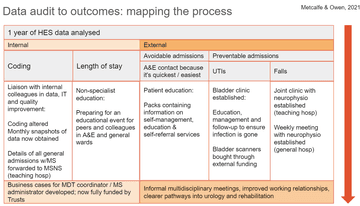 Fig 1: A diagrammatic overview of the process from initial audit of data to outcomes to date
Overcoming data challenges
Gale and Audrey are honest about the initial challenge they felt in conducting a data audit, and are grateful to one of the pharmaceutical representatives in their area who both accessed the data for them, helped them to compare it with similar sites across the UK, and taught them how to unpick the data.

'Learning how to unpick the data was really important. For example, when we first looked at the data for comparable areas, we noticed that some areas didn't seem to have any emergency admissions for MS - then we realised it was because they don't have an A&E department.'
Gale Metcalfe
Digging into data made the two nurses aware that coding itself can be a challenge. 'Coding is a big issue - the way things are coded makes a huge difference and influencing how things are coded is really difficult,' notes Audrey.
Both Gale and Audrey sought to find ways to improve coding and the way that data was relayed to them in the future, and had to find different ways to overcome this challenge.
'To start with I went to the A&E and asked for their complete attendance for MS but that didn't work', explains Audrey. 'I went through the coding and data department instead. I had to get permission, but now that I have it, there's a coder who gathers all the data on MS for me and I can get monthly snapshot reports.'
Gale took a different approach. 'I worked with the Quality Improvement team and now the details of anyone coded with MS get sent across to me - I put them on a white board and make sure I follow up with them and the staff supporting them,' Gale shares.
Outcomes so far
Identifying that a lot of the emergency admissions in their area could either be avoided - through patients feeling better informed or knowing where to find information to support them, or prevented - through better knowledge of early warning signs and earlier intervention - Gale and Audrey began to make changes to services.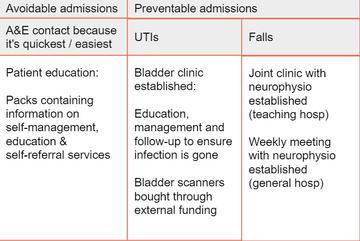 Fig 2: Overview of interventions to reduce avoidable or preventable admissions
One of the highest causes of admissions was urinary tract infections (UTIs) so they developed a bladder clinic, seeking external funding to purchase bladder scanners.
'Urology has really big waiting times, and as nurse prescribers we can ensure people get access to medication as they need - but it's really the lifestyle advice and support that we're finding is most helpful to people,'
Gale Metcalfe
'We've been supporting a lot of people with bladder retraining too,' adds Audrey. 'The bladder scanners are invaluable though, and they can help us to see when a referral to continence is really needed.'
As well as providing preventative care and education around bladder management, anyone with MS who comes through the hospitals with a UTI is given open access to the clinic and a designated follow up appointment after discharge.

'Often, people are given medication in hospital and have a reduction in their infection, but it doesn't completely clear, and they go home and it affects them in other ways. We can make sure the UTI is gone and offer preventative advice for the future too.'
Audrey Owen
Falls were another high volume cause of admission, so Gale has established a weekly joint MDT clinic with a neuro-physiotherapist colleague to provide information and support around positive movement as a form of falls prevention. The MDT clinic also sees people who have been admitted for falls post-discharge for review and follow-up support.
Audrey has a less formal intervention in place with rehabilitation services provided by an outsourced company; she has informal meetings with their community team on a weekly basis to discuss any patients with MS who are being discharged or have recently been in hospital .
Both nurses understand the importance of equipping their patients with information and education. Audrey recently collaborated with the local MS Society branch, who have funded plastic folders containing information on self-management, local support, and services. Gale provides ad hoc information to patients from the MS Society and local services as appropriate.

'Some admissions to A&E aren't really emergencies but people find it's the quickest way to be seen by someone when they're concerned about a symptom. Hopefully giving them more information will increase their confidence around managing their MS.'
Gale Metcalfe
Looking forward
As well as these changes to services, Audrey and Gale have also made internal changes, to their working relationships and to their staffing. Both completed business cases to recruit an MDT coordinator to Audrey's team and an administrator to Gale's, in order to create a single point of contact for their patients.
'Having an identified person who answers the phone really helps people to feel they can trust the service, that they're speaking to someone who understands,' notes Gale. 'We both got funding for the roles initially, but both Trusts fund the posts now.'
The other internal intervention they have identified is that of training. 'There are a lot of people with MS admitted to respiratory or general medicine and the staff there don't have much knowledge of MS,' explains Gale. By working collaboratively with their Quality Improvement team and local pharmaceutical representative, they are planning a masterclass education day for general medical staff, care home workers and community healthcare professionals later in the year.

'Obviously COVID has impacted the service changes we were making and will have made last year's data far less useful for comparisons, but we have the data systems in place now, and once we have everything back up and running, we can start to review whether the interventions are making a difference to emergency admissions.'
Audrey Owen
Related articles
Encouraging excellence, developing leaders, inspiring change
MS Academy was established six years ago and in that time has accomplished a huge amount. The six different levels of specialist MS training are dedicated to case-based learning and practical application of cutting edge research. Home to national programme Raising the Bar and the fantastic workstream content it is producing, this is an exciting Academy to belong to.