Development of a National Pilot Memory Assessment and Support Service, Sligo: Using Kotter's 8 step Change Management Model
---
By
Dr Catherine Dolan, Consultant Old Age Psychiatrist, Sligo Leitrim Mental Health Service
---
Project Write Up

Introduction
-Draft National (Irish) Model of Care (MoC) recommending development of Memory Assessment and Support Services (MASS) per 150k population and Regional Memory Centres for more complex presentations.
- No Memory Clinics currently in West of Ireland. Sligo, chosen as pilot site for development of MASS.
-MASS to include (i) Diagnostic Service, (ii) Post diagnostic Support Services, and (iii) Brain Health interventions with MoC setting targets in each Domain.
-My role on this project is as co-consultant lead setting up novel MASS service from grassroots with tasks including Creating a Service Vision, Building Coalitions, Change Management, developing Clinical Pathways and Staff Training.

Service Development using Kotter's 8 steps
Increase Urgency: Importance of development MASS established. Funding awarded for development of Sligo MASS from National Dementia Office Quarter 4 2021.

Building the Guiding Team: Steering Group Established with Neurology, Geriatric Medicine, Occupational Therapy, Neuroradiology, Psychology, HR, Head of Services/Older Persons Management stakeholders. I am also part of National Dementia Guideline Development Groups including: Diagnostic Imaging, Dementia Risk Reduction and Dementia Palliative Care Service Guidelines.

Get the right vision: Tallaght Memory Service visit March '22 with Key Stakeholders to establish visions. Gaps identified include accommodation, personnel, time, imaging, CSF access and post diagnostic support access. Current diagnostic and post diagnostic pathways reviewed within local services. Gaps identified and incorporated into strategy for service development.

Communicate for buy in: I presented template to Steering Group outlining vision/template for MASS Sligo based on Step3 in April 2022.

Empower action: Challenges identified and addressed in Steering Groups and with co-lead (Geriatric Medicine Consultant). Dementia Project manager locally guided on clinical challenges to address barriers.

Create Short Term Wins: Personnel now in place include Consultant Old Age Psych (0.2 WTE), Co-Consultant Lead Geriatric Medicine, Advanced Nurse Practitioner and Dementia CNS input. Accommodation identified and secured through petitions to executive management team for funding and communication of urgency of need.

Deploy support system: I have received support from Senior Mental Health Management Team and Consultant Colleagues in developing MASS and securing commitment for my time to work on this project. Meetings planned with wider agencies involved in post diagnostic support e.g. Alzheimer's Society, Carers Ireland.

Integrate: Coalitions established with wider Older Persons Services and Managers to develop this service in tandem with wider Older Persons Development locally. Start date for piloting service set for next quarter.

Conclusions
This integrated service is due to be piloted in next quarter.
There will be ongoing review of processes and improvement once MASS established to embed change and build on progress to improve service quality.
More Dementia Academy Service development Projects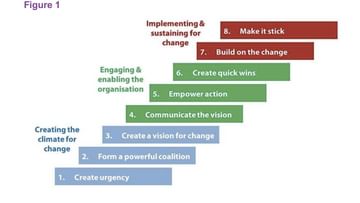 Promoting prevention, supporting management
Led by proactive clinicians determined to see improvement in the way we prevent, diagnose and manage dementias, Dementia Academy supports healthcare professionals with the latest tools, resources and courses to do just that.