Event
Managing MS remotely during the COVID-19 pandemic
---
18 Mar 2020

•

11:15 - 12:15
---
Please note that all session and slide content are the views of the Speakers, not the MS Academy. The content of the recording is the speaker's personal opinion at the time of recording. Due to the everchanging situation, advice given at the time of recording is subject to change.
Summary
This summary, for the webinar on managing MS remotely, covers:
a summary of the virus,
the new guidance from the Association of British Neurologists on COVID-19 and MS therapies,
responses to a series of questions, predominantly regarding disease-modifying treatment (DMT) scenarios,
discussion of case studies
ways of managing MS remotely during this time,
a new microsite for MS and COVID-19, 'MS-Selfie' where much of the information to date, and new information as it arises, will be available, as well as regular responses to newly posed patient questions.
Summary of virus
Gavin summarised the virus, looking at its make-up and the way it spreads in humans (fig 1). He highlighted that the reason this is a virus ideally suited for pandemic, something the World Bank has predicted as a 1 in 20 risk, is due to its long asymptomatic period estimated to be between five and 14 days, and the likelihood that most people who are infected go on to infect three or four others before they exhibit symptoms. Noting that there are some 'superspreaders' who may shed more virus than others, but the reason for this is unclear at present.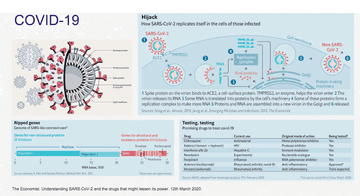 Fig 1: An overview of the virus itself, its structure and how it functions (slide 6)
The virus is thought to be spread from upper respiratory tracts but a number of people with the virus have presented with diarrhea and it is thought to also be spread via faeces.
It has non-specific clinical presentation; most present with flu-like symptoms, some present with diarrhea. There have been a high number of false positives based on symptomatic reporting.
It does not seem to affect the respiratory symptom initially, but rather affects the lungs as an immune-response to the virus. It may be that immuno-supressant therapies help to stop the respiratory response.
It has been found that steroids do not help – they may make things worse. France has also reported anecdotally that using anti-inflammatories to treat the flu-like symptoms has also been found to make symptoms worse.
Immuno-supressed patients like those with MS tend to shed more virus so may spread the virus more. Also if someone is immuno-compromised, they are more likely to have a severe response to COVID-19.
Age plays a strong role in the mortality factor with those aged 45 and over more susceptible. It has also been found that men are more at risk of mortality than women, and this is thought likely due to increased risk of hypertension, heart problems and diabetes.
Summary of ABN guidelines
The ABN guidelines, and the Italian guidelines on the same, are discussed briefly in the webinar. A slide (fig 2) summarising the two sets of guidance regarding MS therapies was discussed.
Key points to note are that:
whilst Natalizumab is given a 'green' status, there is a possibility that Covid-19 may be neurotropic so whilst guidelines suggest Natalizumab is safe at present, this will need monitoring.
there is a query over whether Cladribine should be classified as a 'red' drug as it is different to the other 'red' drugs, and Gavin gives more detail on his opinion for this, and the relative evidence supporting his opinion, in response tob a question later in the webinar (20.06).
Gavin encouraged everyone to download and review the new ABN guidance regarding COVID-19 and MS therapies, which can be found here.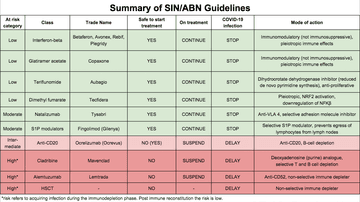 Fig 2: Summary of SIN (Italian) and ABN guidelines regarding DMTs for MS during the COVID-19 pandemic (slide 17)
Guidance on social distancing
People with MS on the list – likely to refer to someone who is on an immuno-suppressant therapy; personal view is that a healthy person with managed MS not on therapy at present is no more likely than others of contracting COVID-19.
People with MS, expert patients, are reading so much and researching etc so want to ensure we're providing accurate and helpful advice.
Social distancing is vital, however socially isolating is not necessary as a blanket scenario – people need to do this as appropriate to their circumstances. If this pandemic continues for as long as expected – anywhere from 4-6 months to 18 months plus, social isolation is not sustainable or healthy.
Social media is a helpful means of anecdotal monitoring of the situation – people with MS in Italy using different DMTs have contracted COVID-19 and are currently doing well in recovering safely from it.
Response to questions live in the webinar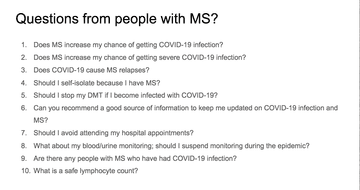 Fig 3: Gavin shared a number of questions from people with MS and responded to them in turn (minute 20.09)
(There are a number of similar – and additional – questions which have been responded to in text form at the microsite 'MS-Selfie' which can also be referred to both for patients and professionals.)
Gavin discussed various questions around DMT use during the pandemic. He encouraged people who are currently receiving treatment to continue with their treatment unless they have severe respiratory challenges, noting that otherwise people will be stopping their treatment for something unrelated to COVID-19. Some questions pertained to giving patients their second set of doses, for Cladribine (20.06), or Ocrelizumab (30.19).
For Ocrelizumab the risks of not completing the course must be considered. If using Cladribine, Gavin also encouraged completing the course as patients are likely to be lymphopenic anyway and the level of immunosuppressant is relatively small; however he would encourage them to be hypervigilant about infections. Gavin noted that Cladribine is different to the other drugs that have been given a 'red' status by the Italian and ABN guidance and feels this may be a mistake. Ultimately, in both cases, however, the patient's choice is the deciding factor. However, he advised that patients of DMF who are persistently lymphopenic are advised to cease treatment (27.27).
At the end of the webinar (48.48-55) additional questions from webinar attendees were posed, almost all regarding DMT access, continuation and monitoring.
Case studies
Gavin went through two case studies (35.00) and offered them to the 'floor' where professionals who attended the webinar in real time could comment and share their thoughts on the appropriate course of action for the case studies. The case studies were for a first round of Ocrelizumab for a woman who has been advised to delay the treatment indefinitely but who is keen to commence it anyway; the second is for a young woman due to take her second dose of Cladribine with a highly active condition. The two studies, and four additional case studies, are all available on MS-Selfie.
Service redesign
The need to 'do things differently' going forward because of the challenges in managing MS and treating it via DMTs has been discussed for a while. Gavin suggested that the way we need to work during the coronavirus outbreak, through virtual clinics, telephone and Skype consultations, online advice and self-management techniques, could be adopted now and retained into the future as a means to alleviate some of the pressure on the services.
Gavin suggested that there may need to be a refrain from using steroids during the COVID-19 outbreak, as they have been found to worsen symptoms of COVID-19.
Finally, Gavin highlighted the need to pull together at this time to support studies such as the MS Register's sub-study into the impact of COVID-19 in MS patients, and in providing consistent online information for patients, by sharing information and responding the questions on the MS-Selfie microsite.

Were you registered on this course?
Log in to access resources..
Login
Encouraging excellence, developing leaders, inspiring change
MS Academy was established five years ago and in that time has accomplished a huge amount. The six different levels of specialist MS training are dedicated to case-based learning and practical application of cutting edge research. Home to national programme Raising the Bar and the fantastic workstream content it is producing, this is an exciting Academy to belong to.