An audit of referrals with suspected MS to a district general hospital
---
By
Dr Tracey Graves, Consultant Neurologist, Hinchingbrooke Hospital
---
MS MasterClass 2, 2018
In the most recent NICE Guidance for MS (CG 186, Oct 2014) there is a standard that should be reached prior to onward referral by a GP (1.1.4). This states that "before referring a person suspected of having MS to a neurologist, exclude alternative diagnoses by performing blood tests including: full blood count, inflammatory markers for example erythrocyte sedimentation rate, C‑reactive protein, liver function tests, renal function tests, calcium, glucose, thyroid function tests, vitamin B12, HIV serology". As I did not think that this was being met, I decided that it was a good topic for an audit.
Method
Cases were ascertained by selection from patient database, based on final clinical diagnosis (MS, optic neuritis, transverse myelitis, sensory symptoms, fatigue, fibromyalgia etc.). Those cases selected were then analysed further: the referral letter was reviewed to select the final sample and to discard any inappropriate cases, where the reason for referral was not could this be MS. The final cohort were then reviewed comprehensively via electronic documentation (GP referral letter, clinic letter and investigation results). Two entire years of data from a small, single-handed district general hospital (DGH) were analysed (2016-2017). Given that I would be reviewing all of this information, I decided to also look at the patient demographics, presenting symptoms and signs as well as family history of MS as this seems to be an increasing concern to patients.
Results
Fourteen cases of possible MS, as defined by the GP referral, were identified in 2017 and 12 in 2016 (total n=26). Although most had some screening blood tests prior to referral, none had all of those suggested by NICE. No patients had an HIV test. Given the high proportion of referrals for sensory symptoms, it was surprising that only 46% had vitamin B12 testing.
Most patients presented with multiple symptoms with fatigue (n=11) or sensory symptoms (n=6) and had no detectable clinical signs (n=15).
The diagnosis of MS was only made in three patients in 2017 (with another one pending investigations) and four patients in 2016. This means that the MS diagnosis rate in a DGH general neurology clinic is very low (0.45-0.57% of new patients seen).
Blood tests sent prior to referral: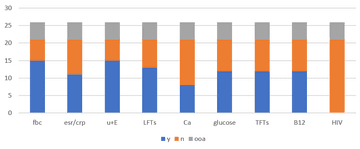 Discussion
GPs do not seem to be aware of this part of the NICE guidelines, as no blood test achieved 100% across referrals. In fact, I was not aware of this guidance until I started this project! Most patients had at least some blood tests sent prior to being seen in clinic, but none had an HIV test. Given the high proportion of patients presenting with sensory symptoms, it is concerning that only 46% had B12 testing.
Many patients were referred with multiple neurological symptoms including fatigue which have often been labelled as fibromyalgia. Patients with fibromyalgia tend to think that MS is a diagnostic possibility, but patients presenting with these symptoms did not lead to a diagnosis of MS, despite most referrals being in this category. Another concern for patients is a positive family history of MS and this can lead to referral, even if their symptoms are not really compatible with the diagnosis. Four patients in the cohort had a positive family history in a direct family member, but only one was diagnosed with MS.
The presence of neurological signs increases the likelihood of diagnosing MS, however, the new diagnosis rate in a DGH general neurology clinic is very low.
This was a retrospective analysis and so case ascertainment may not be complete. This could be addressed by a prospective study in future years.
More MS Academy Diagnosis & assessment Projects
Encouraging excellence, developing leaders, inspiring change
MS Academy was established five years ago and in that time has accomplished a huge amount. The six different levels of specialist MS training are dedicated to case-based learning and practical application of cutting edge research. Home to national programme Raising the Bar and the fantastic workstream content it is producing, this is an exciting Academy to belong to.