MS Relapse clinic – Luxury or Necessity?
---
By
By Dr Mohamed Belhag, Associate Specialist in Neurology, University Hospital Coventry
---
MasterClass 3, 2018
Around 80% of multiple sclerosis follows a relapsing and remitting course, affecting the vast majority of patients living with this disease. Relapses are the hallmark of active MS, and are often associated with significant functional impairment and decreased quality of life.
MS relapse needs to be considered as an emergency like other neurological emergencies and should be managed by professionals specialised in this condition. Facilities should be available and adequately equipped to deal with such cases for the right diagnosis and the right intervention at the right time. Early treatment of MS relapses can impact the immediate outcome and positively affect the long term welfare of sufferers.
Diagnosing MS relapse can be challenging and clinicians running the clinic should be aware of differential diagnoses and confounding factors. National guidelines recommend rapid access to specialist care for patients experiencing acute symptoms of MS. A multidisciplinary approach to rapid-access care is likely to benefit patients and allows most relapses to be managed in the outpatient setting. Planning of a rapid-access MS service can be guided by population characteristics.
In this review study, I have looked at the last 5 years of the multiple sclerosis relapse clinic(MSRC) at the University Hospital in Coventry, and analysed fully all events of the year 2017.
Over the last 5 years a total of 624(76% females) patients were reviewed for a possible clinical relapse, and managed accordingly. About two thirds of these patients were referred by the MS specialist nurses or by the disease modifying clinic(DMT), and the other one third was referred by primary care, other medical and neurological specialties. The total number of patients seen per year ranged between 121 to 127, mean 125, sd 2.7.
A retrospective full year(2017) review of patients computer records showed that122 patients were seen, 86% of them were females. Among them 57% with relapsing and remitting MS(RRMS), 38% were secondary progressive MS(SPMS), and 5% primary progressive MS(PPMS). At the time of assessment, 44% of the total were already on DMT.
All patients were assessed by the same person and gone through the same relapsing criteria. Only 31 patients(25.4%) had a clinical relapse. A total of 77(63%) patients had MRI with contrast, 15(20%) showed enhanced lesions. All enhancing lesions were with those clinically diagnosed with an acute relapse. None of those diagnosed with no relapse showed any enhancing lesions. All diagnosed with relapse and had enhancing lesions were started newly on DMT or had their current DMT escalated.
Among those 91(74.6%) who had no clinical relapse, 14(15%) had anxiety and depression, and similar number had nociceptive pain. All non-relapse patients were treated for their problems or referred to appropriate departments.
In conclusion; this review study showed that MSRC is an important service to help diagnose and treat relapses in MS. It does as well identify those who are not relapsing do show significant medical problems could be sorted out at the right time. It did also show that experienced clinical approach can diagnose relapses at the right time and identify those to be imaged, and reduce the number of inappropriate steroid treatment.
Hence, MSRC is a necessity, and for the time being with the limited emergency MRI services, it can provide more than adequate services to patients with MS.
More MS Academy Relapse Projects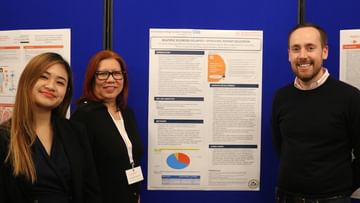 Encouraging excellence, developing leaders, inspiring change
MS Academy was established five years ago and in that time has accomplished a huge amount. The six different levels of specialist MS training are dedicated to case-based learning and practical application of cutting edge research. Home to national programme Raising the Bar and the fantastic workstream content it is producing, this is an exciting Academy to belong to.