Personalised timing of COVID-19 vaccination in MS patients receiving ocrelizumab
---
By
Dr Afagh Garjani, Clinical Research Fellow, Nottingham University Hospitals NHS Trust
---
Project write up
Introduction
MS patients receiving ocrelizumab fail to produce antibodies in response to COVID-19 vaccines and demonstrate high rates of the infection. These patients also have an increased risk of severe COVID-19 outcomes, highlighting the need to improve their response to vaccination. The number of CD19+ cells seems to be a strong predictor of developing a response to COVID-19 vaccination, suggesting that adjusting the timing of vaccination according to CD19+ cell counts could improve the immune response.
Objective
The aim of this quality improvement project is to optimise the immune response to COVID-19 vaccination in MS patients receiving ocrelizumab by personalising the timing of their COVID-19 vaccination according to their CD19+ cell count.
Service Development
The target population is all MS patients on ocrelizumab who plan to receive a further dose of COVID-19 vaccine before their next infusion.
At Nottingham University Hospitals NHS Trust, patients' CD19+ cell counts are routinely measured before each ocrelizumab infusion. The suggested plan is as follows:
1. For counts ≥10 cells/µL, patients will book their vaccine for as soon as possible.
2. For counts <10 and ≥5 cells/µL, patients will book their vaccine for 8 weeks later.
3. For counts <5 cells/µL, patients will undergo another test for the CD19+ cell count after 8 weeks and the above steps will be followed again.
The next ocrelizumab infusion will be scheduled for at least 4 weeks after vaccination. Patients may choose to have COVID-19 antibody testing.
Results
This service was launched in February 2022, and it will be reviewed regularly.
Conclusion
This service aims to improve the quality of care among MS patients receiving ocrelizumab by optimising their immune response to COVID-19 vaccination and protecting them from the infection and its severe outcomes such as hospitalisation and death.
More MS Academy COVID-19 Projects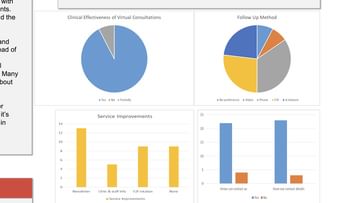 Encouraging excellence, developing leaders, inspiring change
MS Academy was established five years ago and in that time has accomplished a huge amount. The six different levels of specialist MS training are dedicated to case-based learning and practical application of cutting edge research. Home to national programme Raising the Bar and the fantastic workstream content it is producing, this is an exciting Academy to belong to.