A new approach – MS and neuro health psychology
---
---
The COVID pandemic changed a lot of our working practices.
We were fortunate in Newcastle, our MS service delivery was not compromised and we were able to maintain a level that ensured DMT monitoring, blood tests and injection site inspections were maintained, as well as annual reviews. Initially some of these reviews were by video chat and telephone calls. This change of approach highlighted that some of these changes could be adapted more permanently.
We cover a large geographical area and this can make it difficult for some patients to attend face to face clinics due to either disability or transport issues. We automatically reviewed patients – especially those not on treatment, in the hospital setting, expecting them to take time off work, just for them to say they had no problems and were fine. Due to this we now hold telephone consultations regularly on top of our face to face clinics.
We work closely with the neuro health-psychology team. Due to the pandemic and their staffing changes, they also have had to look at adapting their service provision. Following a team meeting, a new clear and identifiable referral pathway was developed, to ensure we could refer our patients via the correct route, so that they didn't have unnecessary delays to their appointments.
Also to help reduce these accruing waiting times, research has shown that group sessions, including for those who have CBT issues. Rather than one-to –one mindfulness sessions, the team feel that they could utilise appointments more productively, and hopefully reduce waiting times. Due to the appointments being based around CBT, there should be no confidentiality breaches, as the information would be generic. Being held in the medi-cinema there is also the option of patients attending via video chat.
This is a new approach and therefore not yet auditable. Research has shown it to be beneficial, therefore an approach worth trialling. It is also possible for patients who do not feel comfortable to attend group sessions still to have 1-1 appointments.
More MS Academy Cognition Projects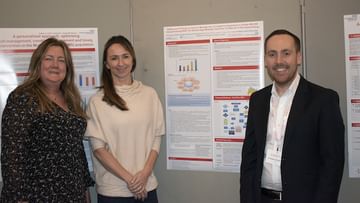 Encouraging excellence, developing leaders, inspiring change
MS Academy was established five years ago and in that time has accomplished a huge amount. The six different levels of specialist MS training are dedicated to case-based learning and practical application of cutting edge research. Home to national programme Raising the Bar and the fantastic workstream content it is producing, this is an exciting Academy to belong to.