Rapid Access Multiple Sclerosis Unit (RAMSU)
---
By
Dr Neil Archibald, Consultant Neurologist
---
Multiple sclerosis (MS) is common, complex and costly. Affecting largely younger patients, it is the most common central nervous system disease of people in their 20s and 30s. The MS team at South Tees provides care for over 2000 people with MS and we expect roughly 100 new presentations each year.
The majority of patients will require complex immunotherapy and, despite this, many will go on to develop progressive neurological disability. MS leads to a range of problems including weakness, spasticity, falls, urinary and faecal incontinence and swallowing problems. These longer-term complications place patients at high risk of prolonged hospital admission.
MS patients at South Tees at more likely to be admitted to hospital than comparator CCG regions and, once admitted, their hospital stays are prolonged compared to the national average. Costs in the region are very high. South Tees spent £1.5M on unscheduled care for MS patients in 2016-17, and many of these admissions could be avoided with a more responsive service model.
Modelled on the successful Parkinson's Advanced Symptoms Unit, the Rapid Access Multiple Sclerosis Unit (RAMSU) will provide a rapid-access, community-based multidisciplinary team targeted at those patients with greatest risk of admission - newly diagnosed patients, those with active disease and those with spasticity or incontinence. The focus will be on delivering timely interventions to ensure a reduction in hospital admissions and, wherever possible, facilitate early discharge from hospital.
The costs to South Tees NHS FT will come from staffing the unit but these will be offset by efficiency savings generated by better management of patients. The RAMSU service will also provide a more streamlined general neurology outpatient service, bringing down waiting times in what is acknowledged to be an area of poor performance for the Neurology Department. If an enhanced tariff can be agreed with the local CCGs then the staffing costs will be met by this additional income.
More MS Academy Service development Projects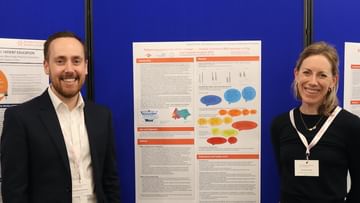 Encouraging excellence, developing leaders, inspiring change
MS Academy was established five years ago and in that time has accomplished a huge amount. The six different levels of specialist MS training are dedicated to case-based learning and practical application of cutting edge research. Home to national programme Raising the Bar and the fantastic workstream content it is producing, this is an exciting Academy to belong to.