Signposting MS patients to appropriate services for Fatigue
---
By
Claire Reidy, Neurology Research Nurse, Leeds Teaching Hospitals NHS Trust
---
Project write up
We see Research patients with MS for our clinical trials, we often see the patients more frequently than the MS team and we become their support. They often tell us their symptoms and we have to sign post them to the MS nurses or the consultants depending on what they tell us. I have devised a flow chart which can aid the Research Nurses on where to first sign post the patients to and if they have already completed these, we can then speak to the specialist nurses. Fatigue impacts between 69% and 83% of people with MS (pwMS) and has been graded as a 'severe' symptom by 74% of pwMS (Rooney et al. 2019) MS-related fatigue impacts on walking, physical activities, psychological wellbeing, and overall quality of life.

Treatments for fatigue can include -

Exercise – (aerobic, balance and stretching exercises, including yoga)

Diet

Mindfulness.

Heat and humidity

Supplements

Regular resting

Meditation, relaxation and biofeedback

Other therapies - oxygen, Acupuncture, APS therapy

Drug therapies - Amantadine and supplements
Top 10 patient tips for management of fatigue (MS-UK)

Try to plan activities around the house carefully, remember there is always tomorrow, and ask others to help you.

Being aware of the need to factor in rest time.

Time to myself to do exactly what I want to do with my day.

Being aware of limitations, having self-awareness.

Break down tasks into small units and take breaks! Celebrate and be grateful for small successes.

Regular daily patterns – go to bed at the same time each day and get up at the same time each morning

Looking after your psychological wellbeing can have a positive effect on fatigue levels.

Trying just to do what I can that day. I will not beat it so it's pointless fighting. Learning about MS and how it affects me helps. And avoiding external stressors.

It is very important to listen to your body. If you need to rest, then rest. If you know you have a really busy day coming up – a day out, a wedding or something that is going to take a lot of energy –make sure you rest well for a couple of days leading up to it.

Don't be tempted to overdo it when you have a really good day. You may well end up making yourself feel a lot worse for a few days after. It is important to pace yourself and rest when you can.
Fatigue can often be managed by the making lifestyle changes, if after the lifestyle changes there are still problems with fatigue then the MS nurses can complete a more thorough assessment and see if there are additions or changes they could make to help them with this.

References:

Rooney et al. 2019 Prevalence of fatigue and its association with clinical features in progressive and non-progressive forms of multiple sclerosis

MS-UK, Treatment for Fatigue, available at https://ms-uk.org/choices-fati...
More MS Academy Supported Self Management Projects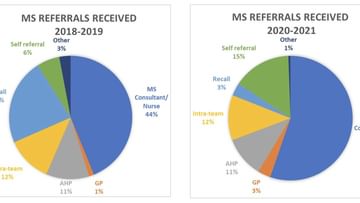 Encouraging excellence, developing leaders, inspiring change
MS Academy was established five years ago and in that time has accomplished a huge amount. The six different levels of specialist MS training are dedicated to case-based learning and practical application of cutting edge research. Home to national programme Raising the Bar and the fantastic workstream content it is producing, this is an exciting Academy to belong to.