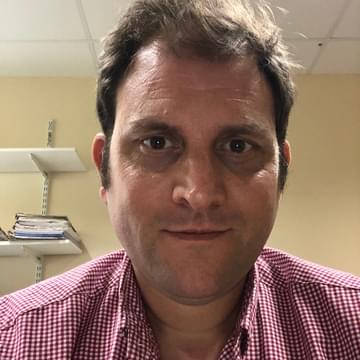 Dr Benjamin Glickstein
Consultant
South Tees Hospitals NHS Foundation Trust
Dr Benjamin Glickstein works between the acute medical and geriatric wards, and spends half a day a week with the Neurology team seeing patients with movement disorders.
Benjamin trained the London north east geriatric and internal medicine training programme, completing his consultant training in 2015. Whilst training he was awarded a teaching hero award for neurology teaching with medical students from Imperial College. Benjamin continues to teach neurology examination as a faculty member on the "Pass PACES" course in London. He is regularly involved in teaching geriatric and acute medicine speciality trainees, providing pragmatic approaches to managing patients with movement disorders.
Benjamin has developed an interest in movement disorders throughout my training. He was the clinical lead for Parkinson's disease in the geriatrics department whilst working at the North Middlesex Hospital, London.
He went on to spend five years in Canada working as an internal medicine physician and geriatrician in Miramichi New Brunswick. During this time he ran a weekly movement disorders clinic.
Since returning to the UK, Benjamin has started working with the neurologists in James Cook Hospital in PD clinic and in the advanced symptom unit in Redcar.
He has an interest in medical law and ethics and was co-author of the "Medical ethics for the PACES exam" Oxford University Press, 2019. He is currently senior editor of the medical ethics and law section of the pocket book for PACES, 2023
Benjamin enjoys working as part of a multi-disciplinary team and continues to develop my expertise in movement disorders.
Events
Dr Benjamin Glickstein is speaking at these forthcoming events...
---