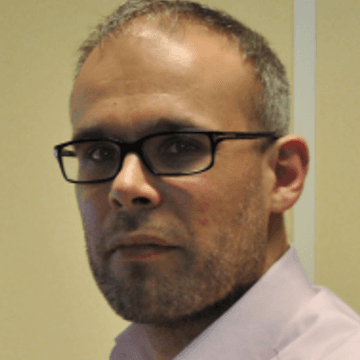 Dr Christopher Kobylecki
Consultant neurologist
Manchester Centre for Clinical Neurosciences, Northern Care Alliance NHS Foundation Trust
Christopher Kobylecki is a consultant neurologist at Manchester Centre for clinical neurosciences, Northern Care Alliance NHS Foundation Trust and honorary senior lecturer in neuroscience at the University of Manchester. He completed a PhD focused on mechanisms of L-DOPA-induced abnormal involuntary movements in Parkinson's disease (PD) whilst undertaking higher clinical training in Neurology, including clinical trials in PD. He undertook postdoctoral research focused on the use of positron emission tomography (PET) and MR imaging in parkinsonian syndromes such as multiple system atrophy and neurodegenerative dementias.
He runs a specialist Movement Disorder clinic at Salford Royal and is lead for the regional service for patients with atypical parkinsonism, as well as being a lead for medical advanced therapies i.e. apomorphine and Duodopa. He is a member of the Association of British Neurologists movement disorder advisory group and is a trustee and chair of the Scientific Advisory Panel of the Multiple System Atrophy Trust. His research interests include motor complications of PD, cognitive and non-motor disorders in PD and atypical parkinsonism, and imaging techniques in dystonia.

Dr Christopher Kobylecki is a contributor to the following academies
Events
Dr Christopher Kobylecki is speaking at these forthcoming events...
---
---