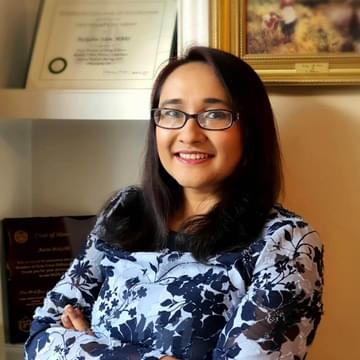 Mahjabin Islam
NIHR academic clinical fellow
University of Sheffield
Dr. Mahjabin Islam works as an NIHR academic clinical fellow at the University of Sheffield and final year Neurology Specialty Trainee Registrar (ST7) in Sheffield Teaching Hospitals. She has an academic interest in neuromuscular conditions. She recently presented her research work on the future of metabolomics in Motor Neuron Disease at the European Academy of Neurology conference and received a commendation for high performance. Throughout her training years, she received several international awards, including the Young Achiever Award 2019 by the American College of Physicians and QI Innovation Award 2021 by the American Academy of Neurology. She has delivered successful clinical trials as a sub-investigator in Sheffield, including MND and Myasthenia Gravis drug trials.
Along with developing research skills, she is committed to teaching and mentoring. She worked as a co-lead of the MSc Neurology program (neurodegenerative disease) offered by the University of Sheffield. She supervises MSc Neurology students and leads a mentoring program for undergraduate medical students. She has written neurology exams and academic training pathways guidelines for Association of British Neurology (ABN) trainees.
Learning from her experiences, Dr Islam has taken an initiative to run an online group and developed a website to mentor hundreds of overseas doctors who have joined the NHS workforce. She also delivers neurology online teaching for overseas medical students and doctors. In collaboration with her peers in Bangladesh, she has written book chapters on Guillain Barré Syndrome and Transverse Myelitis. She has been invited to deliver podcasts on different neurological conditions.