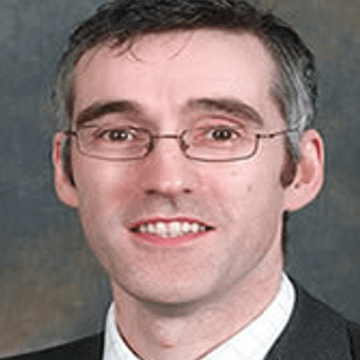 Dr Rob Skelly
Consultant geriatrician
University Hospitals of Derby and Burton
Dr Rob Skelly qualified for Charing Cross and Westminster Medical School in 1989.
He did general medical training in London and, after a period working in Zimbabwe, did higher training in geriatric medicine in Nottingham and Derby. He became a consultant in 2000 and has led the multidisciplinary Parkinson's clinic in Derby since 2001 and is particularly interested in multidisciplinary team care of Parkinson's and care of the hospitalised Parkinons's patient. With Fiona Lindop, he has edited "Parkinson's Disease: A Multidisciplinary Guide to Management", published by Elsevier in 2021.
Rob and other members of the Parkinson's Multidisciplinary Team in Derby have achieved external recognition in the shape of the PDNSA Parkinson's team of the year award 2015, the Parkinson's Academy Decade of difference award 2013, Hospital Doctor PD team of the year award 2007 and National Parkinson Foundation Centre of Excellence status (2009-current).
He is former regional lead for the Parkinson's Excellence Network in the East Midlands (2014-2021), past Chair of the BGS- Movement Disorder Section (2020-2021) and member of European Parkinson's Disease Association Expert Review Panel., He plays tennis "badly" and likes to go on cycling holidays.

Dr Rob Skelly is a contributor to the following academies