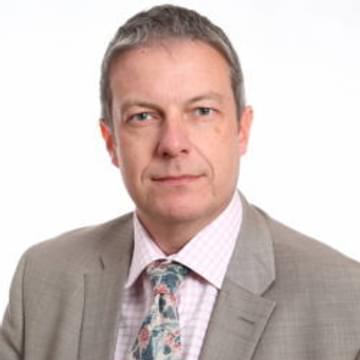 Dr Trevor Pickersgill
Consultant Neurologist
Cardiff and Vale University Health Board
MB, BCh (Wales) 1991; MRCP(UK) 1984; Fellowship BMA 2004.
Dr Trevor Pickersgill is a Consultant Neurologist with an interest in MS/neuroinflammatory disease based at the University Hospital of Wales, Cardiff and the Royal Glamorgan Hospital, Llantrisant.
After PRHO posts in Swansea, Cardiff and East Glamorgan he trained in General Medicine in Great Yarmouth and Wales before entering Neurology and Neurorehabilitation in Cardiff. His Neurology research included managing MS patients in a multicentre study as part of the European Beta-Interferon Study Group and he also did work on physiotherapy in chronic MS and the interaction of breathing and swallowing with Prof. Mark Wiles and team. He trained in clinical neurology in Swansea, Newport and Cardiff and obtained his CCST in 2003.
He has ongoing research experience principally in MS – including monoclonal antibody drug trials, cannabinoid studies, epidemiological work on MS prevalence/relapse and inflammatory biomarkers. He is currently local Principal Investigator in the MRC SANAD2 epilepsy trial and is a sub-investigator for several MS therapy studies. Other clinical interests include headache and epilepsy. He is a Council Member, Treasurer and Trustee of the Association of British Neurologists.
He has been active in the BMA for many years and has chaired the UK Junior Doctors' Committee; Welsh Consultants' Committee, Remuneration and Organisation Committees and has sat on Welsh and UK councils for many years. He was recently elected to the role of Interim Treasurer with Board level/Chief Officer duties and responsibilities.
He is active locally as well as nationally and has been an active member of C+V LNC for 15+ years and has chaired the Senior Medical Staff Committee. He was a Board member of the PMETB 2003-10 which set standards and curricula for postgraduate medical training throughout the UK and continues to do some GMC Performance Assessment work.
Trevor has a daughter Freya, and a son Henry. He is Treasurer and Fixtures Secretary for the local medics' Cricket Team, "The Cardiff MCC", although admittedly his on-field performance is generally restricted to umpiring and bowling wides. He has stupidly taken up running at far too late a point in life to be healthy and is now a veteran of several 10K races and did his first half marathon in 2013 and 9th (Great North Run) in September 2018. His aberrant thought processes at 50 led him to buy a bike and wetsuit and do 4 triathlons in 2018 including a Half-Ironman weekend.
Dr Trevor Pickersgill is a contributor to the following academies