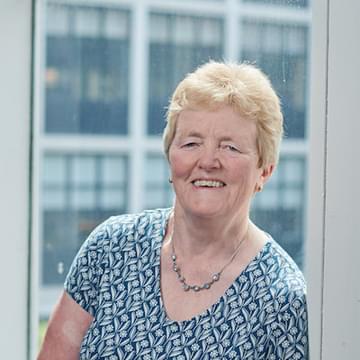 Jane Rideout
Clinical lead for user involvement
UK Parkinson's Excellence Network
Jane Rideout brings valuable lived experience to the UK Parkinson's Excellence Network Clinical Leadership Team. Before being diagnosed with Parkinson's in 2008, she worked in IT management and sales and marketing roles. In 2013, Jane began volunteering for Parkinson's UK, with volunteer roles including peer support, hosting Parkinson's UK's First Steps programme and being a local support group coordinator. Jane became involved with the Excellence Network in 2015, and became the Regional Lead of the South West Peninsular Excellence Network in 2017. She actively promotes exercise for people with Parkinson's.
Jane expands: "I chose to take on a leadership role within the UK Parkinson's Excellence Network as I hoped that my experience of living with Parkinson's, and having no healthcare background, could offer a different perspective.
"I want to encourage other people living with Parkinson's to get involved, to use their skills, and to participate actively in their Excellence Network regional groups. Working together and sharing best practice will help to produce services that benefit both people with Parkinson's and healthcare professionals throughout the UK. The Excellence Network offers people living with Parkinson's the opportunity to play their part and I hope my role helps encourage this."
Jane Rideout is a contributor to the following academies
On Demand Events
Jane Rideout spoke at these On Demand events...
---