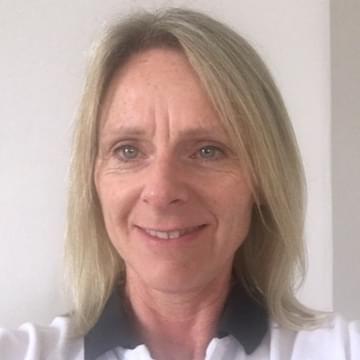 Kim Knight
Clinical Specialist Physiotherapist
Stroke and Neuro Rehab Service, Torbay and South Devon NHS Foundation Trust
Kim graduated from the University of Brighton with a BSC in Physiotherapy in 1993 and then completed her MSc in Physiotherapy in 2007. She has worked as a specialist neurological physiotherapist in Southampton, Manchester and East London. She returned to her home county of Devon in 2011 and has since then worked for Torbay and South Devon NHS Foundation Trust and is a clinical specialist physiotherapist in the Stroke and Neuro Rehab Service.
Kim is currently the lead physiotherapist in the Community Neuro Rehab Team and sees a variety of patients with neurological conditions including people with MS. She is an independent prescriber and also works in the spasticity clinic, and is able to inject botulinum toxin as needed. Kim has worked with people with MS throughout her career and is very aware of the complexities and challenges that this disease causes. She is keen to continue to work to improve the lives of these people by encouraging their physical activity and well- being. She was delighted to be asked to speak about her experiences for people with MS during the COVID pandemic
Kim Knight is a contributor to the following academies
On Demand Events
Kim Knight spoke at these On Demand events...
---