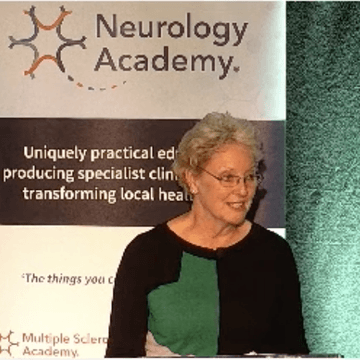 Pam Bostock
Consultant occupational therapist in neurology
Midlands Partnership Foundation NHS Trust
Pam Qualified 1984, and has worked predominantly in neurology for her 38 year career, with a special interest in MS and MND.
After 20 years in the hospital setting she joined the East Staffs Primary Care Trust as a Clinical Development Facilitator for Neurology. Here she developed the community based 'Adult Ability Team', to provide specialist nursing and neurological care to people with progressive neurological conditions, accessible throughout their whole journey. The team had a holistic philosophy, seeing itself as partners in the self-management of the person's condition, and under Pam's leadership the team received local and national recognition and awards. Pam still champions this concept of service delivery today.
Whilst completing her MSc in Neurological Occupational Therapy at Coventry University, Pam became a 'Darzi' clinical champion for progressive neurological conditions -and chaired a multi-agency working party to develop a strategy for this client group in Staffordshire. This working party formed the Staffordshire Neurological alliance, which campaigned for neurological service improvement in the region for many years.
Pam has been a consultant occupational therapist for neurology for almost 15 years, supporting various charitable organisations, including:
· Representing occupational therapy on the Multiple Sclerosis Society Professional Network around 2001-5.
· 2014 (CG186) MS N.I.C.E. guideline development group member
· Co-Chair of 'Therapists in MS' (TiMS) for 6 years until 2020, (and was awarded 'Allied Health Professional of the Year' in the MS Trust QUDOS awards in 2016). She was an advisory group member of the MS Trust '5 Year Forward View' in 2016, and represented OT in the development of the 'Multiple Sclerosis Optimum Treatment Pathway' (2020).
· Pam has also supported the Motor Neurone Disease Association (MNDA) with the development of materials, as well as speaking at various conferences over the years. Pam was awarded the MNDA extra mile award in 2017 for services to people affected by MND.
· Pam was a member of the Royal Collage of Occupational Therapists neurological conditions specialist section working group until her term ended in 2019, supporting the development of educational conferences and materials, and contributed to the 'Allied Health Professionals' competency framework for progressive neurological conditions' RCOT (2017).
Pam was recently awarded an MBE in the Queens Jubilee Honours in recognition for her work with people affected by progressive neurological conditions
Pam Bostock is a contributor to the following academies
Events
Pam Bostock is speaking at these forthcoming events...
---