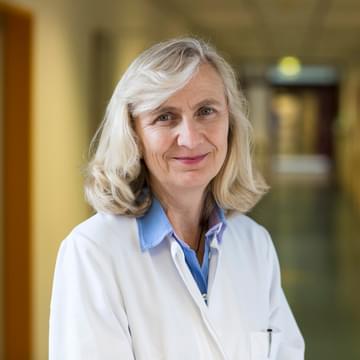 Prof Claudia Trenkwalder
President of The International Parkinson and Movement Disorder Society
Claudia Trenkwalder, MD, started her clinical education in neurology and movement disorders at the Dept. Neurology of the University Hospital in Munich in 1988, was head of the "Movement Disorders and Sleep" research group at the Max- Planck Institute of Psychiatry in Munich before moving to the University of Goettingen. She is Medical Director of the Paracelsus-Elena Klinik in Kassel, a spezialised hospital for Parkinsonism and Movement Disorders, and Full Professor of Neurology as a Foundation Chair at the Dept. of Neurosurgery, University Medical Center Goettingen, Germany.
She has published more than 400 peer reviewed articles and is currently President of the International Parkinson and Movement Disorder Society (IPMDS), and was President of the World Association of Sleep Medicine (WASM) and is an active member of many national and international scientific societies and committees including Fellow of the EAN from its start.
Prof Claudia Trenkwalder is a contributor to the following academies
Events
Prof Claudia Trenkwalder is speaking at these forthcoming events...
---