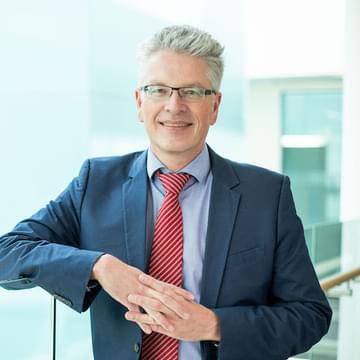 Prof Oliver Bandmann
Professor of Movement Disorders Neurology
University of Sheffield
Oliver Bandmann MD is Professor of Movement Disorders Neurology/Honorary Consultant Neurologist, University of Sheffield. His main areas of interest are mitochondrial dysfunction and compound screening with identification of neuroprotective compounds as candidates for diseasemodifying treatment in Parkinson's disease, using zebrafish as a new vertebrate animal model for Parkinson's disease, mitochondrial biomarkers in Parkinson's disease, as well as Huntington´s and Wilson disease.
Oliver has a PhD in Neurogenetics from University College, London. He is a Fellow of the American Academy of Neurology (FAAN) and a member of the Association of Physicians and the Movement Disorders Section of the Association of British Neurologists. He is also a member of the Editorial Board of the clinical Neuroscience Journal Neurology, and vice-Chair of the Research Advisory Panel (RAP) of Parkinson's UK. He is Neurodegeneration Theme Lead of STH Academic Neuroscience Directorate.
Recent research grants include a proof of concept study examining ursodeoxycholic acid (UDCA) as a disease-modifying treatment for Parkinson's disease, and an in vivo pathway analysis to determine the mechanistic role of susceptibility genes for Parkinson's disease.
Professor Oliver Bandmann is a contributor to the following academies