Cognitive impairment in practice
Event reports
---
---
At the MS Trust conference on Sunday 28th February, three different healthcare professionals shared their perspectives around cognitive impairment in MS, providing a clear understanding of the way cognitive impairment can affect a person's life, and the ways that healthcare professionals can support those experiencing it.
In summary:
Dr Anita Rose gave a strong background to both cognitive impairment, the impact it can have on a person and the need for assessment and intervention in supporting people with this 'hidden' symptom.

This was followed by a case-based discussion on occupational health-led interventions by Emma Royal.

Finally, specialist nurse Louise Jarrett gave a thought-provoking session, telling true stories of her experiences with patients living with cognitive impairment over the past year.
Cognitive impairment is a common symptom in MS with between 40% and 65% of people with MS expected to experience it in some form. Opening the session, Dr Anita Rose, consultant clinical neuropsychologist, set the scene for cognitive impairment in MS, opting to begin by sharing the lived reality of it.
Noting that cognitive impairment is associated with higher levels of unemployment and a higher likelihood of depression - which in turn can impact cognition, Anita spoke of the way it can affect poor social participation, emotional wellbeing, and a person's relationships.

'All of us have an identity driven by our ability to think, to reason - when these change, it can threaten our sense of self... It affects our self-esteem and self-confidence, and impacts on our interactions with others.'
Dr Anita Rose, consultant clinical neuropsychologist
Anita outlined the various ways that cognition can be impaired in MS, and how this may present in their daily lives, including: memory and the ability to learn new things, speed of processing, attention, executive function, visual and spatial organisation deficits, and verbal fluency.
She explained that with processing, whilst it can take people a longer time to process information, studies have shown that performance accuracy is not impacted. Maintaining attention on one thing can be challenging, as can dividing attention between different tasks, something which becomes increasingly difficult, the more things vying for attention.
Anita suggested that visual processing is often ignored despite being present in around 25% of people with MS. This form of impairment can manifest in different ways; perhaps a feeling of clumsiness, an inability to place things that they are looking for, difficulty following maps, or challenges with reading.
She also explained that a small percentage of people have difficulty with pure executive function. This refers to a difficulty in responding to changing needs in an environment, being flexible in their thinking and having an ability to switch between tasks quickly, something which can have a huge impact on someone's self-esteem.
To assess, or not to assess…?
Anita highlighted the many challenges to assessment, particularly the reliance on self-reflection, and the impact that psycho-social elements like anxiety and depression can have on assessment outcomes.

'I never assess for assessment's sake… Assessment is not always the most appropriate thing.'
Dr Anita Rose, consultant clinical neuropsychologist
She also questioned whether assessment is sufficient, sharing that education and awareness can be more helpful to an individual, reassuring them that what they are experiencing is part of their MS.
Anita was, however, clear that assessment at early diagnosis is important - but always followed by holistic intervention, something which requires more research and is not always easy to refer to. Access to screening, assessment and remediation can be difficult, she said, as can ensuring appropriate referral to community services.
Aware of the current challenges in services resulting from the pandemic, Anita also suggested there is a need to rethink how we refer and support patients.
Individualised interventions
Emma Royal, specialist neurological occupational therapist, continued the session by detailing two very different case studies to give practical ideas on what individually-tailored interventions in cognitive impairment might look like.
Explaining that interventions are all about understanding the exact way that cognitive impairment is playing out in a person's daily life, and then exploring how to best adapt those activities to better suit that person's strengths. The intervention will consider strategies to take on board, and encourage regular self-reflection. These strategies will be very tailored to the individual's needs and circumstances.

'Occupational health believes that, when the activities we do are linked and aligned with our values and beliefs, this gives meaning and purpose to our activities - and to our lives.'
Emma Royal, specialist neurological occupational therapist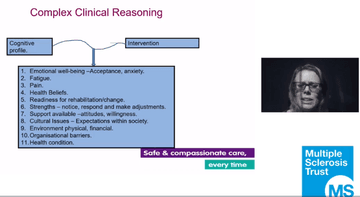 Emma's slide detailing the elements to consider in order to make a holistic and individual intervention plan.
Real-life impact
Dr Louise Jarrett, independent nurse prescriber, continued the session by looking at the role of the MS specialist nurse in supporting people with cognitive impairment.
Bringing to life the reality of cognitive impairment and the different ways it can manifest and affect someone's daily life, she shared a series of 'true stories' based on reflections on her practice over the past year. Within these stories, she painted a vivid picture of the wide-ranging impact of cognitive impairment.
She questioned her own responses to it, and mused on the use and benefits of assessment tools as well as the impact on a person of being 'measured'. Louise also highlighted the inter-relationship between disease-modifying therapies and cognitive impairment, noting two recent studies suggesting that DMTs can reduce brain volume loss by approximately 30-35%, slowing cognitive impairment (Amato and Krupp 2020, Landmeyer et al 2020).
Further information
MS Academy is aware of this under-addressed need in MS and are looking to launch a webinar series on cognition and progressive MS in the coming weeks.
The Brief International Cognitive Assessment for MS (BICAMs) was referred to during the talk.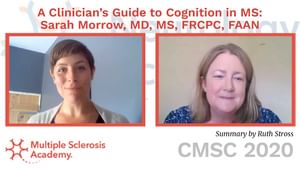 Related articles
Encouraging excellence, developing leaders, inspiring change
MS Academy was established five years ago and in that time has accomplished a huge amount. The six different levels of specialist MS training are dedicated to case-based learning and practical application of cutting edge research. Home to national programme Raising the Bar and the fantastic workstream content it is producing, this is an exciting Academy to belong to.