Debate: Do we need to redefine our treatment target in MS – should we be treating beyond NEDA to reduce end-organ damage? - MS Cutting Edge Science
Event reports
---
---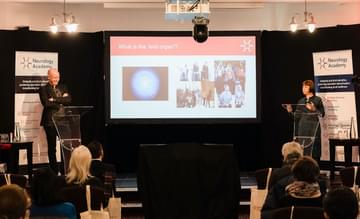 This session is part of a series of write-ups on Cutting Edge Science for Multiple Sclerosis 2021; the conference summary for which is here. The conference was chaired by Dr Wallace Brownlee.
Starting vote: 75% yes, 25% no
No: Dr Martin Duddy
In the 2018 paper, A Brief History of No Evidence of Disease Activity (NEDA), the authors state that, as treatment target, the concept is "not set in stone, and could evolve as new technologies emerge".
This has certainly happened in the intervening years, but the term, which was borrowed from oncology, still has no set definition, said Dr Martin Duddy.
He explained that NEDA-1 simply meant no relapses, and that new criteria, from MRI activity and brain atrophy to cognition and CSF neurofilament levels, have been added in over time. NEDA-8, he said, included patient-reported outcomes and oligoclonal bands.
Alternative treatment targets to NEDA might include minimal evidence of disease activity (MEDA), which Martin described as "an admission of defeat". An approach that focuses on disability improvement, he went on, was "fanciful".
Martin said that while the usefulness of two-year NEDA-3 or NEDA-4 was "debatable", more recent versions of NEDA were "unarguably the ultimate goal for MS treatment".
"But we need to continually review it, we need to adopt it as a concept not as a fixed set of criteria and move with it," he said.

"We did not need to move beyond NEDA to prevent end organ damage because NEDA-4 and beyond includes measures of end-organ damage. The concept of NEDA is good enough."
Dr Martin Duddy
Yes: Professor Helen Ford
The various definitions of NEDA have all come from clinical trials, and we must "be careful" of adopting such concepts into wholesale clinical practice, said Professor Helen Ford.
"We are drowning in definitions of NEDA but how meaningful are they for are people with MS?," she asked. "Let's go back to the holistic care of people with MS."
That means focusing on quality-of-life issues, such as fertility and work, and wellbeing factors, such as smoking cessation. Invoking the image of an iceberg, she said that NEDA only showed what was above the surface.

"There's a lot more to life than NEDA," "Of course we need to treat beyond NEDA. We need to break away from these clinical trial-based definitions and think about the bigger picture for people living with MS."
Prof Helen Ford
Every contact with every patient should be about more than the clinical signs of disease, she said.
"If we don't ask them about smoking, if we don't ask about other aspects of their life, if we don't find out if they are going to lose their job, then what are we doing?
"We need to think about living with MS, which is about much more than the end organ," she said.

Ending vote: 45% yes, 55% no
---
Reference
Giovannoni, G., Bermel, R., Phillips, T., & Rudick, R. (2018). A brief history of NEDA. Multiple sclerosis and related disorders, 20, 228-230.
---
This activity has been supported by sponsorship from Roche Products Ltd, Biogen Idec Ltd and Janssen-Cilag Ltd. The sponsors have had no control over the educational content of this activity.

Encouraging excellence, developing leaders, inspiring change
MS Academy was established five years ago and in that time has accomplished a huge amount. The six different levels of specialist MS training are dedicated to case-based learning and practical application of cutting edge research. Home to national programme Raising the Bar and the fantastic workstream content it is producing, this is an exciting Academy to belong to.