MS MasterClass 7 project winners announced
News
---
---
We would like to congratulate MS MasterClass graduate Rachel Morrison on winning the MS7 intermodule project award!
Rachel's project explored the use of an MS Passport in her patient population in the Western Isles, examining the personal, clinical, and cost benefits of a self-monitored, hand-held record of each individual's MS.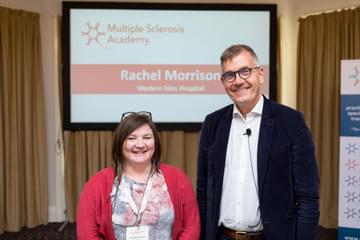 Rachel Morrison and Prof Gavin Giovannoni, September 2019, Sheffield
The MS MasterClass is a two-module course with an intermodule project carried out locally on an area of interest or need. This MasterClass, a large range of topics were investigated from service audits to digital solutions to disease-modifying treatment (DMT) analysis.
Each delegate produced a poster summarising their project, and after giving succinct presentations on these, the group voted for the top 3 best projects. The three projects chosen were by Rachel Morrison, Natasha Hoyle and the joint work by Neena Singh and Tatiana Christmas, all of whom gave fuller presentations, with slides, before Rachel was voted winner.
Runner up Natasha Hoyle examined the variation in lengths of time from funding approval to treatment commencement for a range of disease-modifying treatments across different geographical areas in her locality in Sheffield.
Our other runner up, Neena and Tatiana's joint work carried out at Barts and the London, looked at the prevalence of postprandial somnolence, or 'food coma' in people with MS. Finding that it generally affects people with MS more than those without MS, they examined the various self-management strategies that people employ, from altering their portion sizes or dietary choices, to self-managing with caffeine or exercise to combat the effects of this particular form of fatigue.

The Neurology Academy are committed to sharing the evidence they and their peers have gathered to further support the knowledge base of clinicians and quality of care for those living with MS and other neurological conditions. The posters for all of this MasterClass group's research can be found on our website.
Encouraging excellence, developing leaders, inspiring change
MS Academy was established five years ago and in that time has accomplished a huge amount. The six different levels of specialist MS training are dedicated to case-based learning and practical application of cutting edge research. Home to national programme Raising the Bar and the fantastic workstream content it is producing, this is an exciting Academy to belong to.