Postprandial Somnolence In Multiple Sclerosis
---
By
Dr Neena Singh, SpR Neurology, Royal London Hospital & Tatiana Christmas, FY1, Northwick Park Hospital
---
Postprandial Somnolence (PPS), or "Food Coma" in lay terms, is described as the drowsiness that follows a meal. A recent online survey by the Barts MS Blog found that the 84.9% of pwMS reported suffering from PPS.
This is a phenomenon that has not been formally studied before, and is a burdensome symptom for pwMS, hence we decided to run this project in order to compare whether pwMS suffer from PPS more than people without MS (pw/MS), examine whether the severity of PPS is correlated to the severity of MS and obtain information on the treatments patients are using and how effective these treatments have been.
Qualitative research was conducted using an online survey, emailed to 350 pwMS. Their siblings, partners and friends were also asked to complete a similar survey for the general population to allow comparison between the two groups. Participants were asked to complete the survey one hour after eating lunch. The Stanford Sleepiness Score was used to objectively assess degree of Postprandial Somnolence.

Our results demonstrated that pwMS are affected by PPS more than pw/MS – more people with MS subjectively felt that they suffered from the phenomenon than the general population, but this has also been demonstrated objectively using the SSS. It is well established that pwMS suffer from fatigue more than the general population, but it is clinically useful to determine whether PPS is a major factor during their daily routines as tailored advice could be given to help with this.
We also found that pwMS are adopting self-management strategies to help reduce their symptoms of PPS, the most commonly used intervention was caffeine, however patients are making changes to their diet to improve their symptoms which has had varying effects on their symptoms.

Moving forward it could be useful to examine the effect of specific food groups on PPS symptoms; larger sample sizes and an improved response rate would be required to make the project more robust
More MS Academy Comprehensive care Projects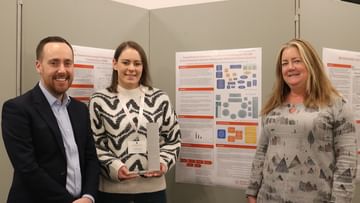 Encouraging excellence, developing leaders, inspiring change
MS Academy was established five years ago and in that time has accomplished a huge amount. The six different levels of specialist MS training are dedicated to case-based learning and practical application of cutting edge research. Home to national programme Raising the Bar and the fantastic workstream content it is producing, this is an exciting Academy to belong to.