New trial to treat within first fortnight of MS presentation announced
News
---
---
A brand new trial has been announced which will seek to treat MS within the first 14 days of presentation, even before the McDonald criteria for diagnosis has necessarily been reached.

The trial, AttackMS, has been conceived by Professors Klaus Schmierer, Gavin Giovannoni and Jeremy Hobart as a way to treat MS aggressively and as early on as possible to give the brain its best chance at remyelination.
Klaus wrote on the BartsMS blog:
'AttackMS may provide the most promising risk/benefit compromise here and now to explore whether intervention with HE-DMT within 14 days of symptom onset is feasible and can facilitate brain lesion repair (remyelination).'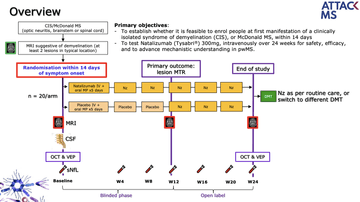 Fig 1: AttackMS trial overview
AttackMS aims to use Natalizumab to treat people under 45 in the UK who are within 14 days of symptom presentation and have an MRI suggestive of demyelination.
Recruitment is set to begin in early Spring for the trial and the overview for the study (fig 1). A more detailed background information can all be found on Klaus' blog post and MS Academy will be providing a webinar on the trial. Join us live on 22 March to learn more:
Related articles
Encouraging excellence, developing leaders, inspiring change
MS Academy was established five years ago and in that time has accomplished a huge amount. The six different levels of specialist MS training are dedicated to case-based learning and practical application of cutting edge research. Home to national programme Raising the Bar and the fantastic workstream content it is producing, this is an exciting Academy to belong to.