Optimal pathways set out blueprint for care
Knowledge
---
---
Three new optimum clinical pathways have been developed for epilepsy, multiple sclerosis and neurological autoimmune conditions - the first of several planned for the coming years.
The pathways seek to establish what good treatment, care and support involves. This includes treatment and support for people who may be experiencing the first symptoms of a neurological condition all the way through to those who have lived with their condition for a long time.
Ultimately, it is hoped that the pathways will support service improvement and enable good commissioning at both a local and national level.
An example of their use can be found in the new report 'NHS Reset and Reform' in the section around 'pathway mapping and innovation'. The report states:

'Ensuring everyone is aware of this optimum pathway will be key for improving MS services, whilst how the pathway is translated, delivered and implemented across local integrated services will be a central issue.'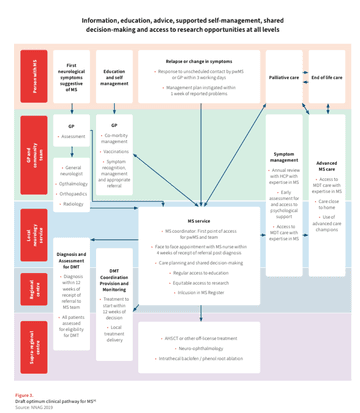 The pathways were developed following a series of workshops in 2018 and 2019 via expert stakeholder groups combining clinicians, patient groups and people with neurological conditions. The Neurological Alliance has been facilitating consultation on them as part of the National Neuroscience Advisory Group and the final iteration of the pathways is expected this year.
You can view the pathways via the Neurological Alliance's webpage.

An integral part of transformation
Unique to our other Academies, this runs as a theme of support through all of Neurology Academy. An essential part of service transformation is to engage with, and educate at a management and commissioning level. From national and local pathway design, to data intelligence and optimising data interpretation to improve services, the Commissioning Support Academy equips everyone in our neurology community with the tools they need to transform services and change lives.