Paper highlights importance of recognising 'temporality' in MND
News
---
---
We must recognise temporality when providing services, care and support to people with motor neurone disease, suggest the authors of a new paper.

Temporality is explained as the impact of a persons' past and their future on how they experience their present. The authors suggest it is a core part of providing holistic care to someone with MND. This is not only due to the rate of progression often experienced by someone with MND, but because, unlike with other neurological conditions, MND causes certain and ongoing change where functionality, once lost, will not be regained (King 2009).

'The need to consider 'temporality' in person-centred care of people with motor neurone disease', was published in the Journal of Evaluation in Clinical Practice in June and reviewed people's reflections on MND in terms of their broader emotional, spiritual and existential experiences.

'The overall aim of this paper is to provide practical insight into the way that professionals caring for a person with motor neurone disease (MND) can recognise, respect and respond to that person's temporality; that is, the person that they have been, that they are now and that they will be in the future.'

Denise Harris, consultant occupational therapist and co-author of the paper
The authors suggest that, by acknowledging a person as more than a 'patient with MND', we can adopt a person-centred care model which focuses on understanding a person in a wider temporal frame and beyond the context of their illness.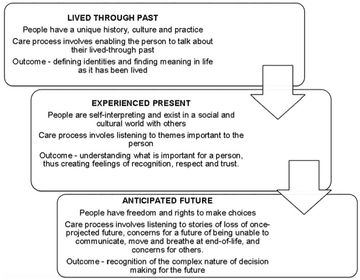 Figure taken from paper summarising a temporal model of care in MND
'Understanding the individual is important, as it can support them to negotiate their way through the disease trajectory in the present and inform care in the future. In a disease which has no cure, focusing on person-centred care in the present takes on an important meaning and understanding day-to-day concerns, needs and preferences can inform this undertaking.'
Through a collaborative approach between professionals, the person living with MND and their family, this type of individualised, person-centred care 'may prevent a person experiencing life in crisis and suffering towards the end of life.'.

Some of the aspects that were reflected on included:
loss of person (lived body experienced in silence);

loss of relationships (lived relations are challenged);

loss of home and loss of time (lived space and lived time take on new meaning);

loss of future (dying—facing it alone),

loss of embodiment;

loss of spatiality;

mood in relation to their lifeworld;

being with others;

facing their own mortality

facing their loss of temporality and spatiality
The article is available via open access online.
Citation: Harris DA, Jack K, Wibberley C, The need to consider 'temporality' in person-centred care of people with motor neurone disease, J Eval Clin Pract, 26 June 2023, https://doi.org/10.1111/jep.13854
Related articles
MND Academy
Better understanding, optimised management, improved quality of life