Reset and Reform MS services: through integration and system working
News
---
---
'NHS Reset and Reform' examines the importance of integration consistently throughout the report, from care pathways to commissioning. Here, the essential component to the success of future healthcare management is highlighted once more in relation to a current favourite for policy: systems working.
The NHS's Integrating Care document, published in late November, is probably the most helpful single policy piece to emerge, and a valuable guide if we are to move integration from 'dream concept' into 'functioning reality'.
'Integrating Care' summarises the services plans for reform going into 2021 and beyond, as well as setting out the detail of how these plans will be delivered. This includes the role of integrated care systems as the basic unit of the local NHS, how finance will work for population-based healthcare, and the expectations for, and responsibilities of, all partners within systems – at all levels. Additionally, the document sets out key aims for systems such as reducing inequalities, supporting new clinical pathways and involving clinicians in wide-ranging changes.
'Integrating Care' details how systems and their constituent organisations will accelerate collaborative ways of working in future, considering the key components of an effective integrated care system (ICS) and reflecting on what our stakeholders have told us about their experiences during the past two years, including the immediate and long-term challenges presented by the COVID-19.

'COVID has required us to stop and restart services. Why not restart them better?'
Dr Ian Pomeroy, Consultant Neurologist, The Walton Centre NHS Foundation Trust
Preventative models of care focussing on optimising brain health, mental health and quality of life all lead to an increase in overall wellbeing and an increased likelihood of slower or halted disease progression.
Integrated models of care are ideally placed to support this person-based 'precision medicine' approach, where individuals receive support to self-manage and optimise their health within their own parameters and outside of specialist services - with specialist care available when it is needed.

'Something that is often underestimated is the role of digital health in integration and the more we can move towards a digital approach, the easier it is to join up often disparate services.'
Phillip Anderson, Head of Policy, MS Society
The report highlights that system working models must be strengthened by an appropriate financial framework - which in the case of neurological conditions like MS - must use outcomes-based evaluation.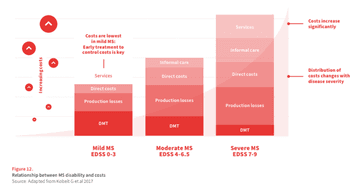 Figure taken from p30, 'NHS Reset and Reform' 2021
Utlising every tool at our disposal to encourage, support and advance integrated systems working is essential, and core to this is ensuring adequate time is given to planning for, and investment in, new ways of working and new models of care.
From multi-disciplinary team meetings at a specialist level, through to planning and design of services within the Integrated Care Systems (ICSs) and into tools and digital solutions to optimise delivery of care - joined up, whole-systems working requires collaborative and proactive planning at all levels.

'New developments require more time and have not been matched by resources.'
Dr Ian Pomeroy, Consultant Neurologist, The Walton Centre NHS Foundation Trust
Thanks to our sponsor, Roche

The 'Reset and Reform' report has been sponsored by Roche Products Limited. Roche Products Limited has had no control over the educational content of this publication


Related articles
Encouraging excellence, developing leaders, inspiring change
MS Academy was established five years ago and in that time has accomplished a huge amount. The six different levels of specialist MS training are dedicated to case-based learning and practical application of cutting edge research. Home to national programme Raising the Bar and the fantastic workstream content it is producing, this is an exciting Academy to belong to.