SARS-CoV-2, COVID-19, and managing MS: What have we learnt? - MS Cutting Edge Science
Event reports
---
---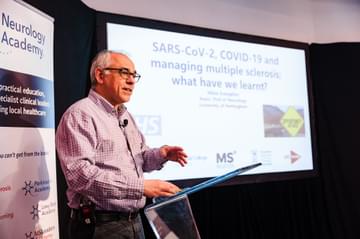 This session is part of a series of write-ups on Cutting Edge Science for Multiple Sclerosis 2021; the conference summary for which is here. The conference was chaired by Dr Wallace Brownlee.
Summary
SARS-CoV-2 rates among people with MS in the UK appear to be similar to those of the general population, but people with the condition do appear to be at higher risk of developing long COVID, and infection can trigger exacerbations.
These are among the conclusions of the UK MS Registry (UKMSR) COVID-19 study, during which 7,977 people completed ongoing online surveys.
Infection and hospitalisation
The study found that 5% of people with MS had PCR-confirmed COVID-19 between May 2020 and March 2021. Of these, 7% were hospitalised. Further investigation of NHS England and NHS Improvement data found that 6% of people on disease modifying therapies (DMTs) tested positive. The infection rate among the general population during the same period, was 6%, and 10% required hospital treatment.
While Dr Nikos Evangelou said the data suggest fears of the 20% hospitalisation rates reported in the US transpiring in the UK were unfounded.
The US data also concluded that those on rituximab had 4.5-fold increased odds of hospitalisation, when compared to those not on DMTs. It also said that ocrelizumab slightly increased the odds of hospitalisation (OR: 1.63).
In the UK, however, the numbers of people on any particular DMT who have died following a positive COVID-19 test are too small to draw any firm conclusion on mortality rates, argued Nikos.
Exacerbations and recovery
The UKMSR COVID study found that more than half, 57%, of people with MS and COVID-19 experienced an MS exacerbation, including worsening and new MS symptoms. People on DMTs were less likely to develop new symptoms, said Nikos.
It also found that 458 of the 599 (76.5%) of the people who reported their recovery status made a full recovery within 12 weeks. However, 141 (23.5%) had persistent symptoms – 106 (31%) at four weeks, and 67 (13%) at 12 weeks. This was significantly higher than among the general population, where the figures are 13.3% at four weeks, and 2.3% at 12 weeks.
Interestingly, people who reported low mood, anxiety, or depression before the pandemic were more likely to experience persistent symptoms, or long COVID, than those who did not.
"We should be aware of the persisting COVID-19 symptoms and exacerbation of MS following infection," said Nikos. He added that mental health has a more pronounced effect on recovery than MS-related physical factors.
Vaccination
Data on vaccination and DMTs are starting to emerge, but are still inconclusive.
One Israeli study followed 414 people with MS and 89 healthy controls for six months after the administration of the Pfizer vaccine. It found that those treated with cladribine, dimethyl fumarate, natalizumab, and teriflunomide had an immune response comparable to that of the control group. However, antibodies were only detectable in 9.5% of those on fingolimod, 22.8% of those on ocrelizumab, and 84.4% on alemtuzumab.

Another, from John Hopkins, looked at 101 people with MS following vaccination. It found humoral responses in 56.4% of those on anti-CD20, compared to 93.6% of patients on no or another DMT. T-cell responses remained strong in 96.9% of the anti-CD20 group.
An article published in December 2021 by Nikos' group looked at the impact of mass vaccination on infection rates among people with MS on specific DMTs. It found that beta-interferons appeared to be protective against COVID.
In addition, the data show that between March 2020 and August 2011, the infection rate trends among the general population and those on alemtuzumab, cladribine, dimethyl fumarate, glatiramer acetate, and natalizumab were broadly similar.
Between the pre- and post-vaccination periods, however, the incidence rate ratio (IRR) for infection in the ocrelizumab groups verses the general population increased from 1.13 (0.97 - 1.31) to 1.19 (1.57 - 2.03). In the same period in the fingolimod group, the IRR went from 0.87 (0.73 – 1.02) to 1.40 (1.20 – 1.63).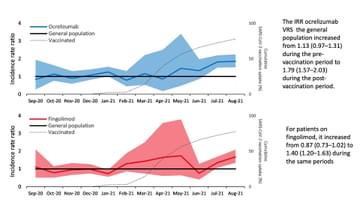 There are limitations to the study, including a lack of data on vaccination rates and timings among DMT treated patients. In addition, the mass vaccination programme was implemented at around the same time as the emergence of the Delta variant, which was more infectious than its predecessor. However, the findings do suggest that vaccination provides no benefit to people on ocrelizumab or fingolimod.
DMTs and COVID vaccination represent a "clinical equipoise" and there is "no black and white", said Nikos, adding that more work is needed before we can fully understand the link between the two.
References
Evangelou, N., Garjani, A., Hunter, R., Tuite-Dalton, K. A., Craig, E. M., Rodgers, W. J., ... & Nicholas, R. (2021). Self-diagnosed COVID-19 in people with multiple sclerosis: a community-based cohort of the UK MS Register. Journal of Neurology, Neurosurgery & Psychiatry, 92(1), 107-109.
Salter, A., Fox, R. J., Newsome, S. D., Halper, J., Li, D. K., Kanellis, P., ... & Cross, A. H. (2021). Outcomes and risk factors associated with SARS-CoV-2 infection in a North American registry of patients with multiple sclerosis. JAMA neurology, 78(6), 699-708.
Achiron, A., Mandel, M., Dreyer-Alster, S., Harari, G., Dolev, M., Menascu, S., ... & Gurevich, M. (2021). Humoral immune response in multiple sclerosis patients following PfizerBNT162b2 COVID19 vaccination: Up to 6 months cross-sectional study. Journal of Neuroimmunology, 361, 577746.
Gadani, S. P., Reyes-Mantilla, M., Jank, L., Harris, S., Douglas, M., Smith, M. D., ... & Bhargava, P. (2021). Discordant humoral and T cell immune responses to SARS-CoV-2 vaccination in people with multiple sclerosis on anti-CD20 therapy. EBioMedicine, 73, 103636.
Garjani, A., Patel, S., Bharkhada, D., Rashid, W., Coles, A., Law, G. R., & Evangelou, N. (2022). Impact of mass vaccination on SARS-CoV-2 infections among multiple sclerosis patients taking immunomodulatory disease-modifying therapies in England. Multiple Sclerosis and Related Disorders, 57, 103458.
This activity has been supported by sponsorship from Roche Products Ltd, Biogen Idec Ltd and Janssen-Cilag Ltd. The sponsors have had no control over the educational content of this activity.

Related articles
Encouraging excellence, developing leaders, inspiring change
MS Academy was established five years ago and in that time has accomplished a huge amount. The six different levels of specialist MS training are dedicated to case-based learning and practical application of cutting edge research. Home to national programme Raising the Bar and the fantastic workstream content it is producing, this is an exciting Academy to belong to.