SMA in reality… Meet Ezra
Knowledge
---
---
Portia Thorman has a little boy called Ezra. He is four years old. He loves space and can tell you what Saturn's rings are made up of. He goes to nursery and enjoys playing with his friends there. Ezra also has a PEG feeding tube because he cannot swallow. He wears a back brace to hold him in a seated position in his wheelchair. He has nursing care around the clock, and his family is trained in using equipment that the local hospital can't use. Because Ezra has spinal muscular atrophy type 1...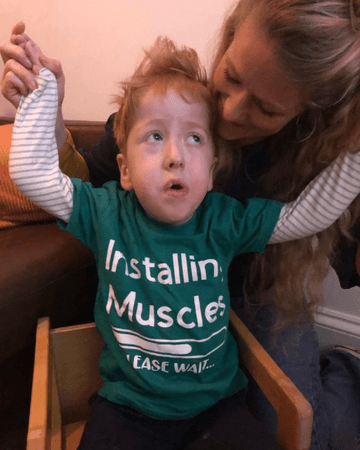 Ezra and Portia Thorman - taken from Instagram page 'Ezrasadventures'
Thanks to a disease-halting drug called Nusinersen which Ezra began taking when he was five months old, and the incredible care and support of his family, he and his mother Portia are working hard to share their story to help raise awareness of SMA and to support other families in their position.
Through increasing awareness of the new national SMA children's pathway, and helping to share the reality of what that pathway is advocating for, they are also helping to educate professionals so that other children born with SMA type 1 are diagnosed earlier, treated more quickly, and can have as full a life as possible.

Recently, a group of specialist Neuromuscular professionals developed a consensus national pathway for paediatric SMA, beginning at type 1 (onset from birth to six months) to type 3b (onset anywhere from 3-18 years).
Over the next few weeks, Ezra's journey with SMA and Portia's experience of it, will help us to understand why each core aim is so necessary, and how the new paediatric SMA pathway can help to achieve it.

Diagnosing SMA: Every Day Counts
The original version of this animation (published May 2021) was supported by sponsorship from Biogen Idec Ltd. Biogen Idec Ltd has had no control over the educational content of the original or updated version of this animation.
This updated version of the animation (published Nov 2022) has been funded by sponsorship from Novartis Gene Therapies EU Limited and supported by Roche Products Limited. Neither Novartis Gene Therapies EU limited nor Roche Products Limited have had no control over the educational content of this activity.

Related articles
Raising awareness, improving outcomes
Neuromuscular Academy is the first bespoke course for healthcare professionals to receive expert training in neuromuscular conditions like spinal muscular atrophy.