Event
MS Nurses/Practitioners - Mind Health in Times of Crisis
---
09 Apr 2020

•

15:00 - 16:00
---
Please note that all session and slide content are the views of the Speakers, not the MS Academy. The content of the recording is the speaker's personal opinion at the time of recording. Due to the everchanging situation, advice given at the time of recording is subject to change.
Summary
Webinar held on 9 April 2020
Jo Johnson, consultant neuropsychologist and author of 'Surviving Me' presented a valuable webinar for professionals alongside Ruth Stross, MS Nurse Specialist.
Presenting practical ideas and exercises for achieving and maintaining a good level of 'mind health', over thirty MS specialist nurses and similar practitioners attended the live webinar.
Jo and Ruth also gave an additional webinar on 6th April aimed at people living with MS, chaired by Professor Jeremy Hobart and supported by George Pepper, CEO of Shift.ms and living with MS himself.
Jo directly provided written responses to a wealth of questions, many of which are pertinent to supporting positive mental health whether professional, living with MS, or otherwise.
Jo's slidedeck is available below, and a video of her giving a very similar presentation aimed at people with MS themselves can be found here.
Key ideas from Jo's talk:
Jo asserts that knowing your personal values makes you far more capable of managing a whole range of physical and mental challenges in times of crisis, and that actioning your values helps move you towards who you want to me. Essentially, aligning your values and who you are (your essence) and what you do (your form) – something also prioritised by our Leadership Academy because combined, they create integrity.
Jo advocates considering the two 'gears of the mind' (fig 1), and notes that both gears are important, and both are needed in different scenarios.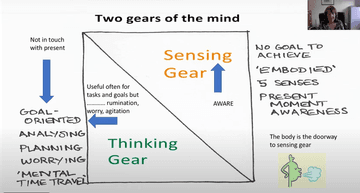 Figure 1: the two gears of the mind
She highlights that 'thinking gear' is essential for thinking things through, planning, remembering, and such. However, by staying in it all of the time, that can lead to stress, anxiety and sleeplessness. Often our 'thinking gear' can take us away from our values and the actions we want to take to be more ourselves.
'Sensing gear' is when we are in the present, experiencing our current situation, calling on our senses, and just 'being'. When we are in 'sensing gear' we notice our thoughts, notice how we feel, and can make better choices about what we do as a result of them. Learning to get back into 'sensing gear' more often allows us to make choices that take us further towards the person we want to be, or actions that are more in line with our values.
Were you registered on this course?
Log in to access resources..
Login
Our sponsor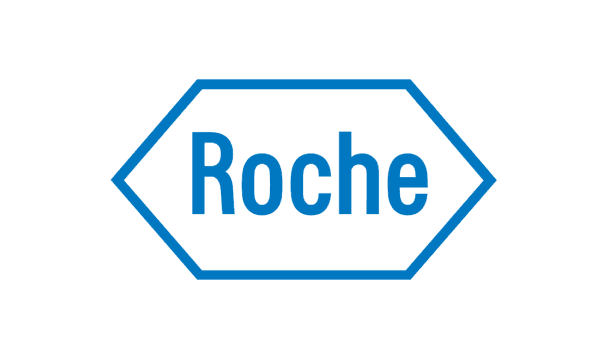 This activity has been supported by sponsorship from and Roche. The sponsor has had no control over the educational content of this activity.
Encouraging excellence, developing leaders, inspiring change
MS Academy was established five years ago and in that time has accomplished a huge amount. The six different levels of specialist MS training are dedicated to case-based learning and practical application of cutting edge research. Home to national programme Raising the Bar and the fantastic workstream content it is producing, this is an exciting Academy to belong to.